Following on from Part 1 of MSFW, after the Peter Jackson show, two hours later I was off to the Mr Runway show presented by Vespa held at Melbourne's Town Hall; a collective showcase of premium Australian menswear labels including Arthur Galan AG, Dom Bagnato, Godwin Charli,  Amxander, Aquila, Autonomy, Calibre and M.J. Bale. I have to say, even though I might be sitting to previewing the collections, that intense feeling of excitement never gets old. The build up of anticipation minutes before a show is contagious, with the air filled by chatter from fashion enthusiasts all rendezvousing to catch this seasons hottest trends. When the first beat from the first track drops, its hard not to start snapping away to capture the moment.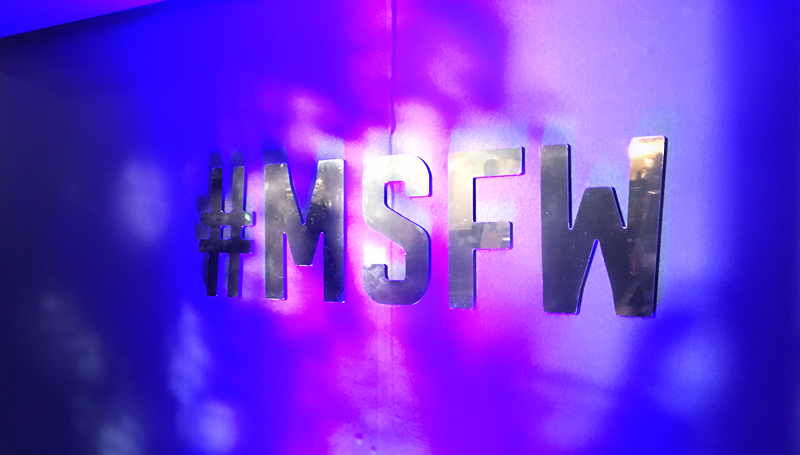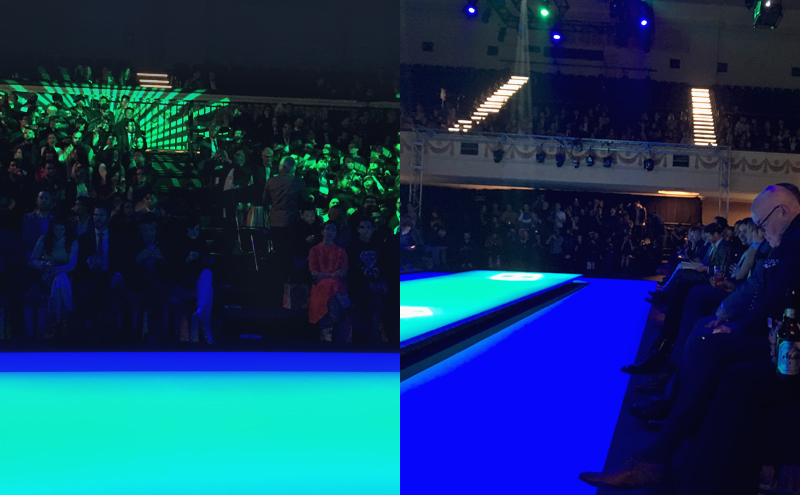 Attempting to switch between Instagram Stories to share the moment with you guys and camera mode, it didn't exactly loan itself to many good quick runway snaps from myself; and the last thing you want to do when sitting front row is drop anything on the runway. So clenching my iphone while taking pics and videos, didn't produce many good results; thinking I'll stick to video mode. None the less hope you guys got to catch some of the insta stories and videos on the @dapperlounge insta feed. In fine company with the gents from Melbourne Watch Company sitting by my side, meeting masters of the of the game Mr Dom Bagnato and Mr Arthur Galan would have had to be the icing on the cake of a great night.
The pros were there and Brandon Cook pulled of the goods for the runway shots below. Opening the evening was sharp pieces from Calibre, delivering threads in grey jacquard textures with punches of bubble gum pink and salmon notes through shorts, shirting and blazers. Floral prints and crisp all white looks seemed to connect designers this season be it smart casual or slightingly more formal threads.
CALIBRE: Spring . Summer 16/17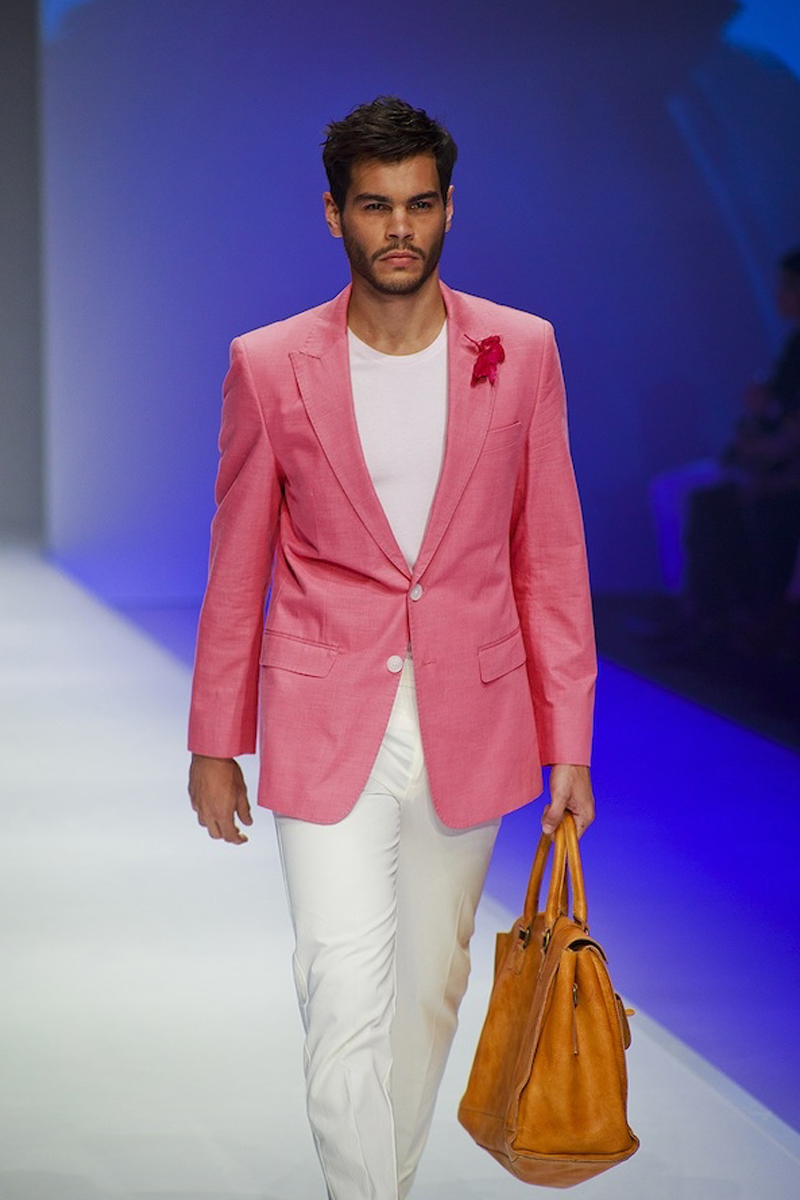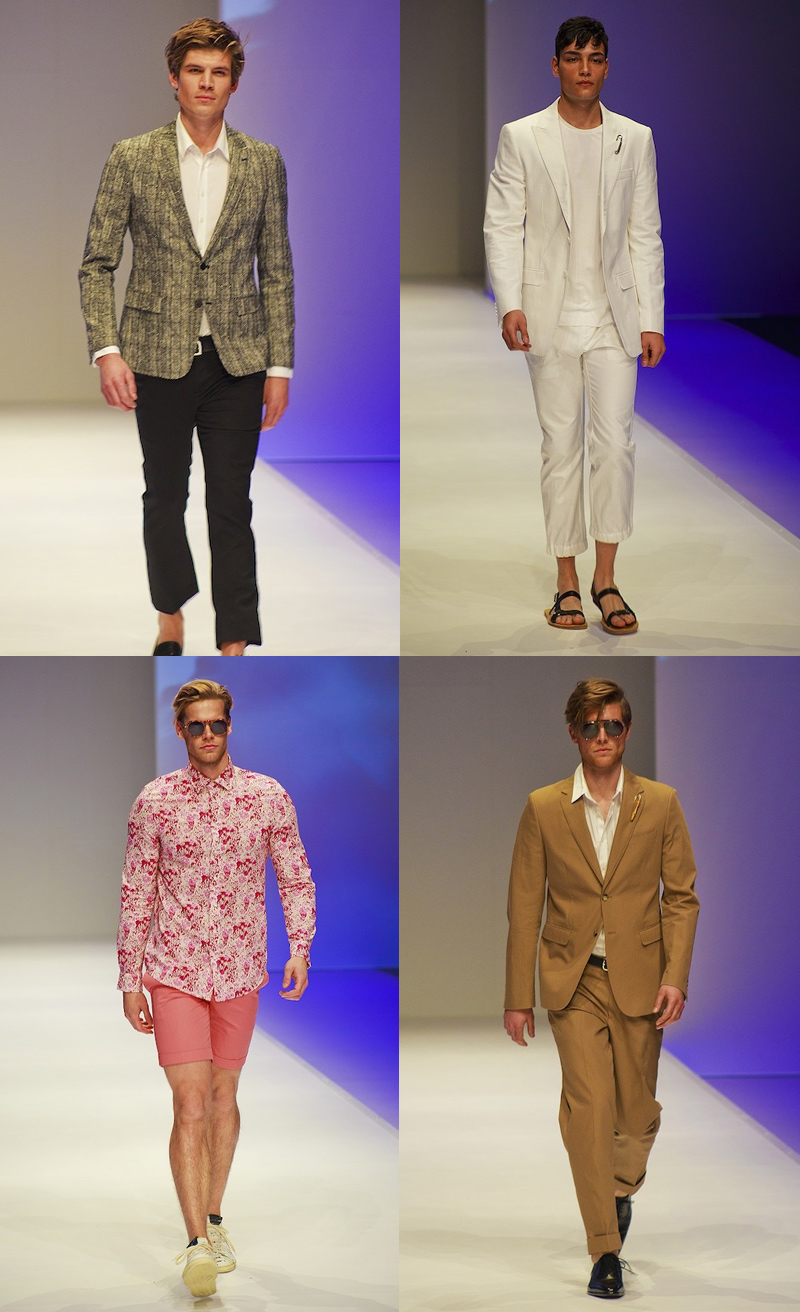 Dom Bagnato flew the debonair flag and cemented the waistcoat as the must have wardrobe item to step up your sartorial game. From cobalt, mid blues to shades of soft sky the colour palate stood for a classy suited summer. No look was complete with out the drape of a fine silk scarf, tie, pocket squares, bow ties or lapel pin.
DOM BAGNATO: Spring . Summer 16/17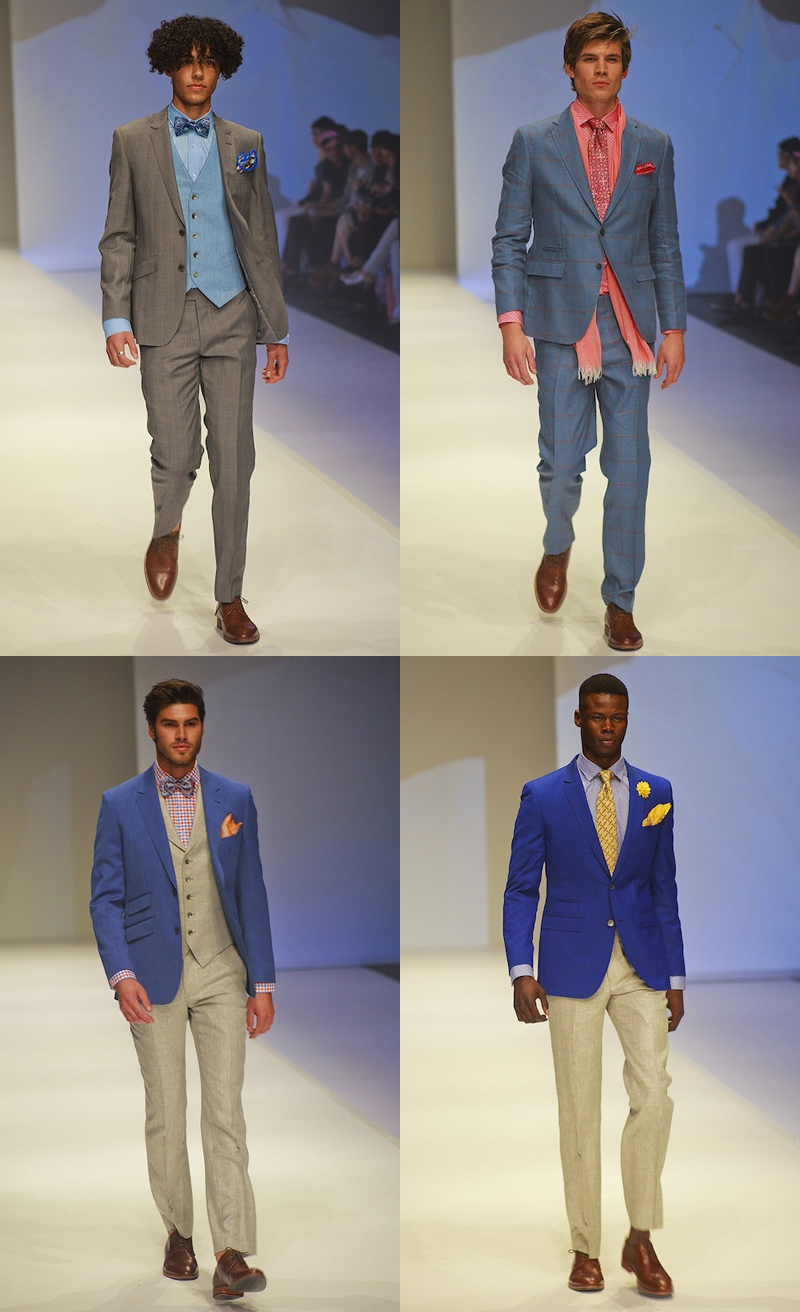 MJ Bale gave us looks fit from work to weekend. Suede biker jackets to navy three piece suiting. A preppy summer school boy look of wide striped navy and ivory jacket paired with shorts mingled down the runway with separate suit combos adding a lighter feel to warmer weather dressing.
MJ BALE: SS.16/17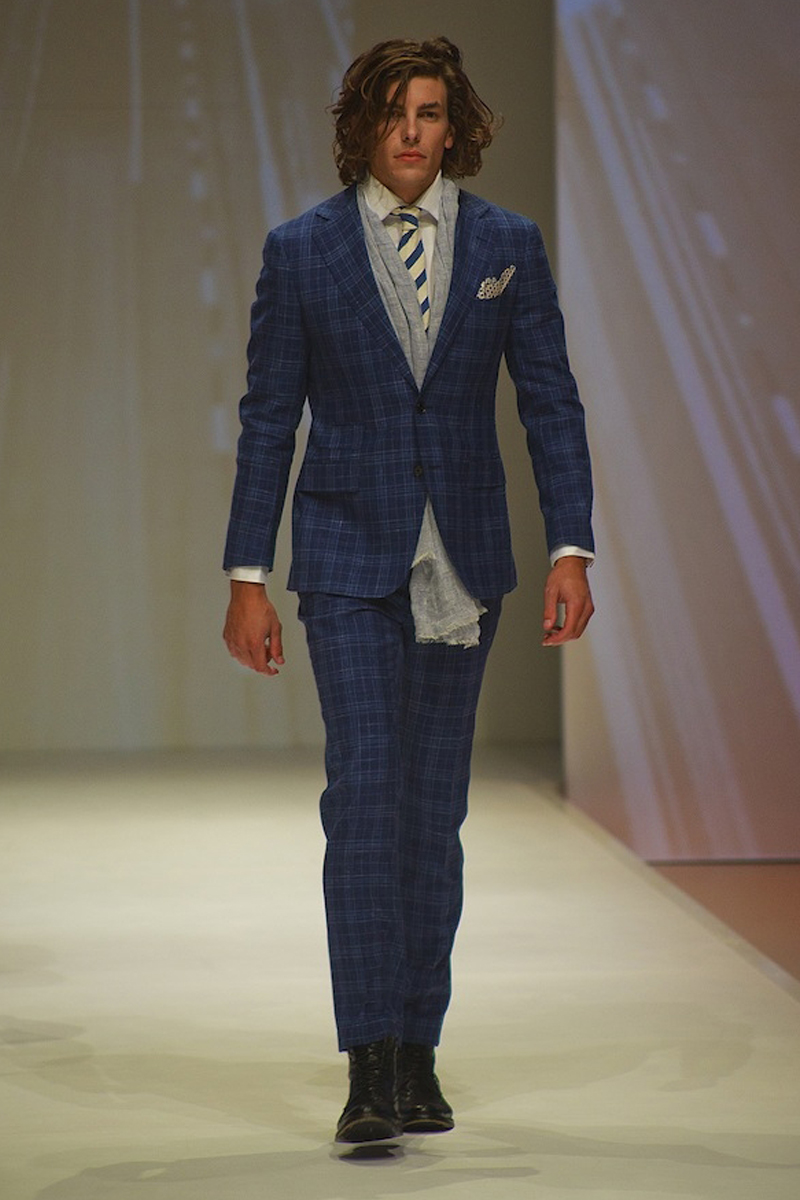 For the modern man, contemporary master Arthur Galan AG knocked it out of the park in statement orange paisley pieces cut in a blazer, bomber jacket and cropped shorts. A slick navy waxed trench coat and camo printed combos held their own on the runway for chic 'after hours wear', with an oversized leather croc embossed duffle catching my eye as a perfect weekender. For the dapper at heart, patent black lace-ups showed a formal lux-tux look with a mod twist of black cropped tailored trousers and white dinner jacket (and black bow tie of course).
ARTHUR GALAN AG: Spring . Summer 16/17
Aquila ran a story of tonal similarities, pairing like coloured shades and prints for overall cohesive looks. With soft greys, charcoals, stone tones and playing with hints of navy and soft blues, Aquila also injecting diamond patterned and oversize checks into its shirting.
AQUILA: Spring . Summer 16/17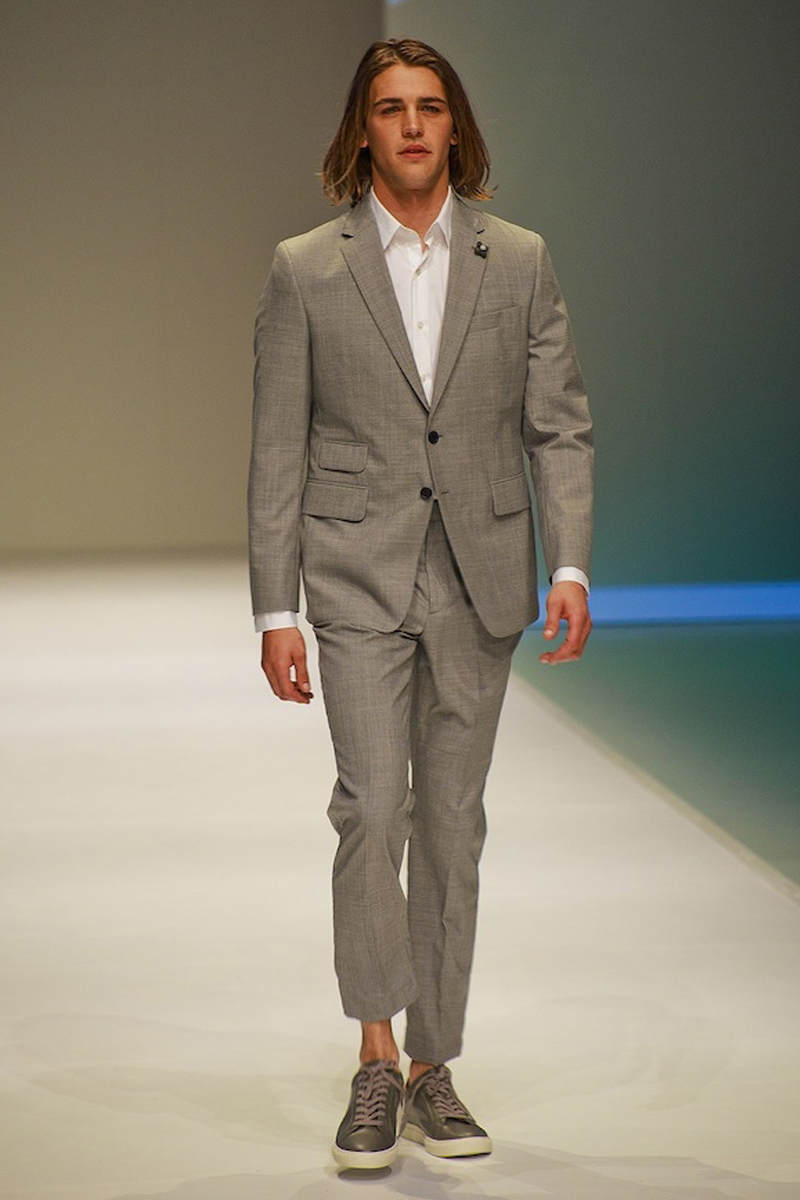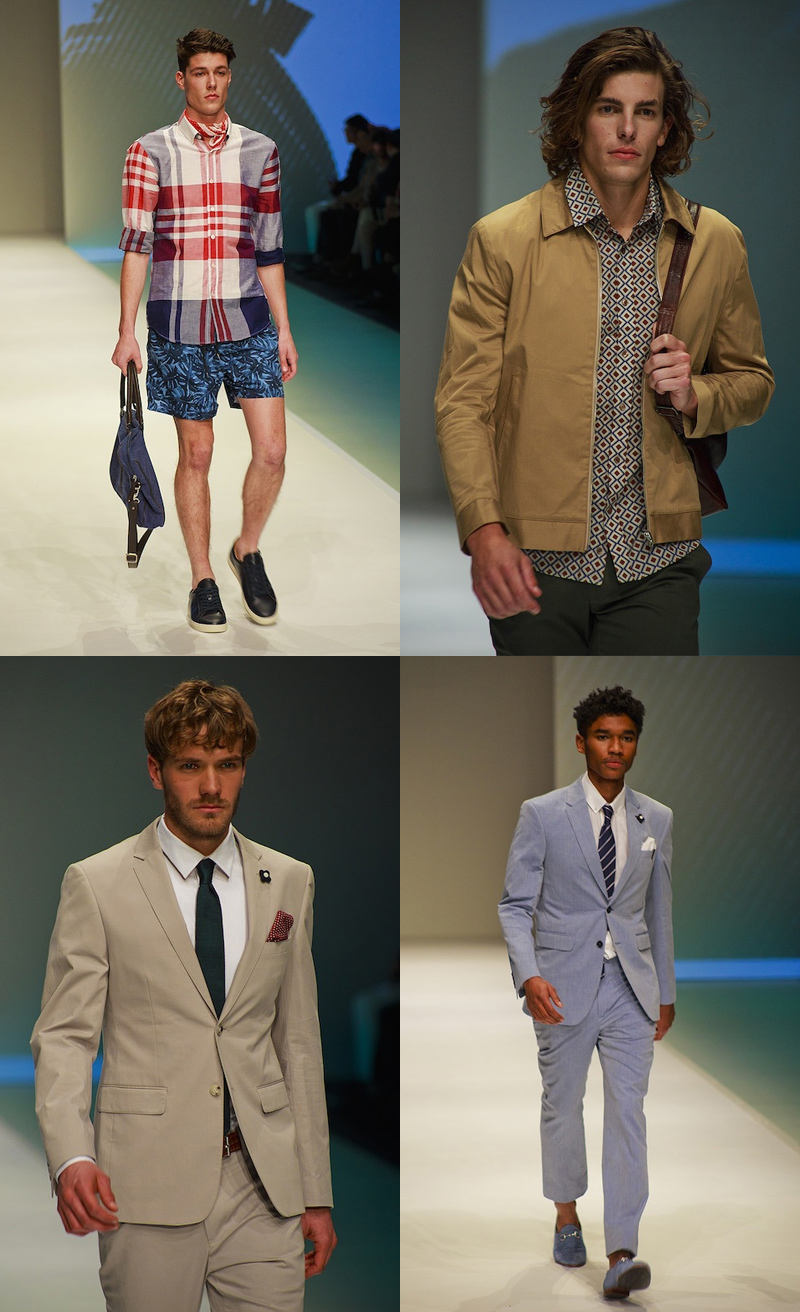 Next, sartorial stakes got raised when Godwin Charlie stepped out. Textured double-breasted jackets and cropped pants again making a styling feature, with velvet continuing on from winter's go to fabrication. Elegant fine line checked pants and bold geo printed blazers made this collection hard not to love.
GODWIN CHARLI: Spring.Summer 16/17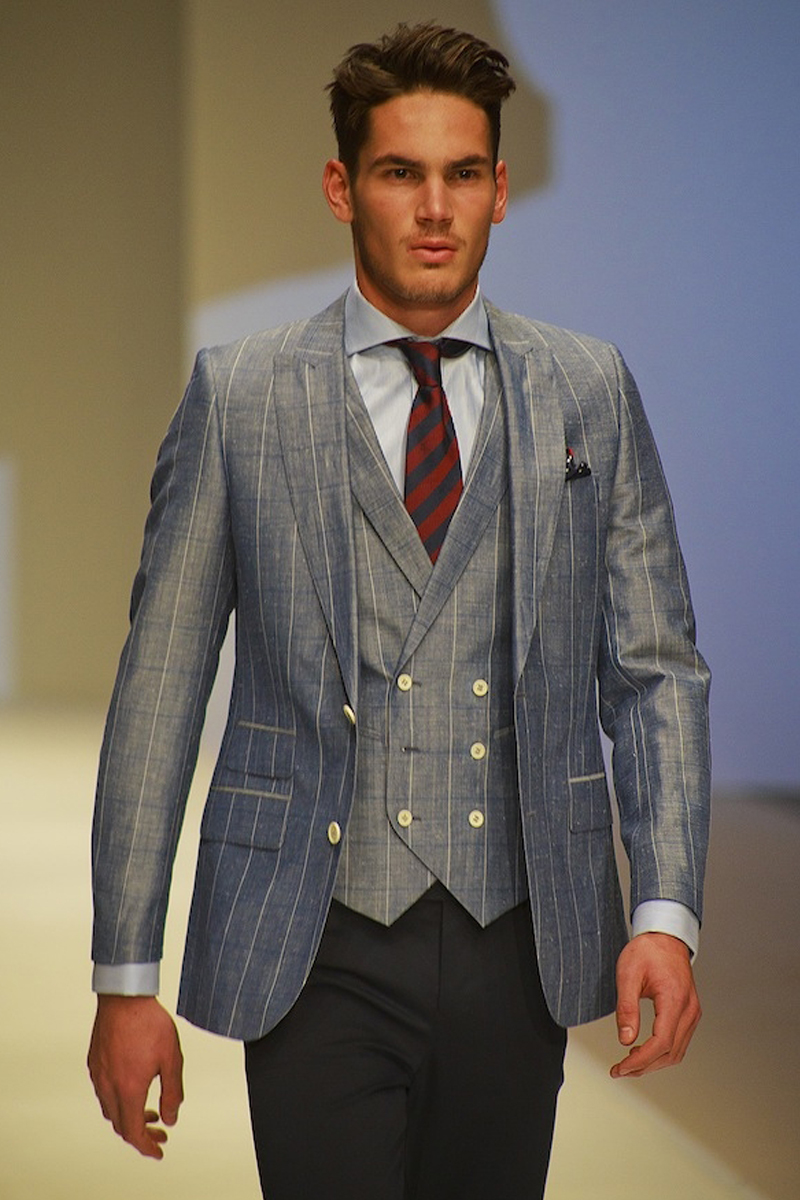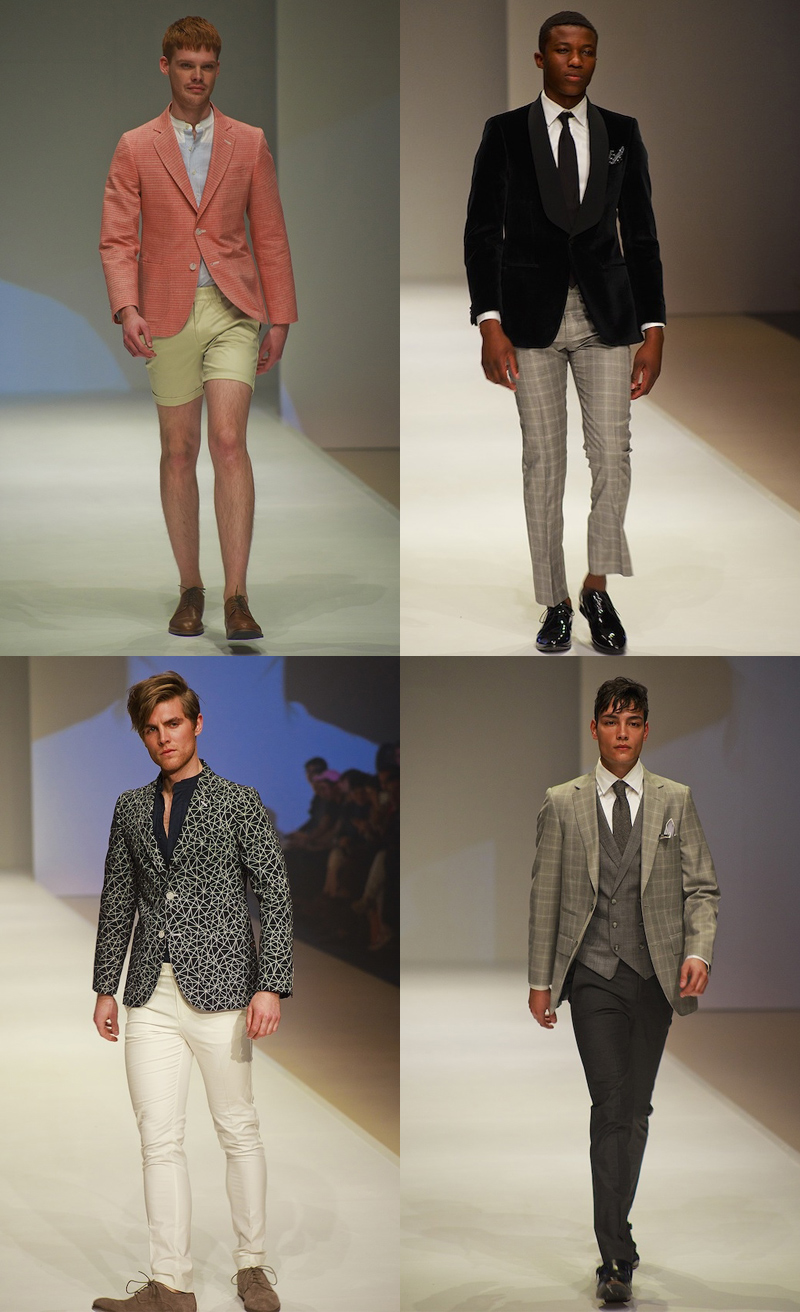 Amxander a relativity new Melbourne base brand that "embodies tactile fabrications, and synchronic styling in order to explore, conceptualise and sensate the modern man." Contemporary pieces that characterized a little sports luxe meets street cool, included rich burnt earthy tones while brand Autonomy brought the palm prints and relaxed weekend wear.
AMXANDER: Spring . Summer 16/17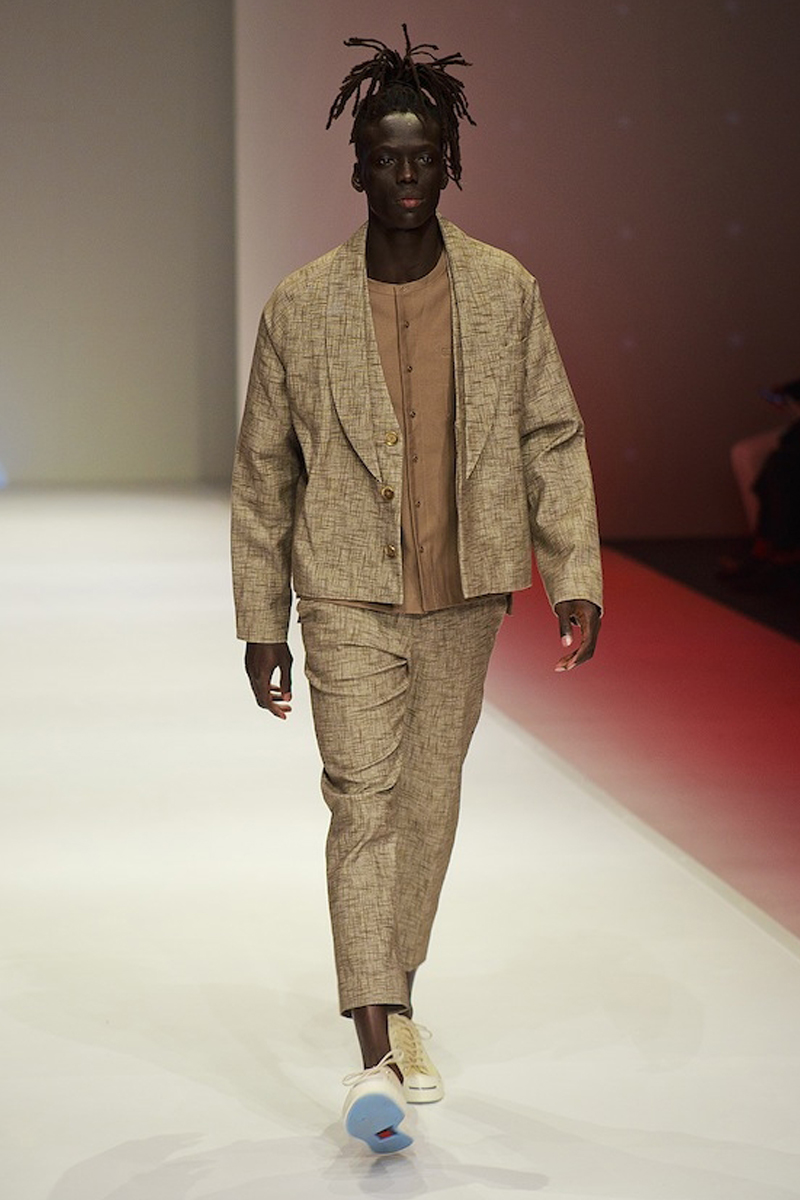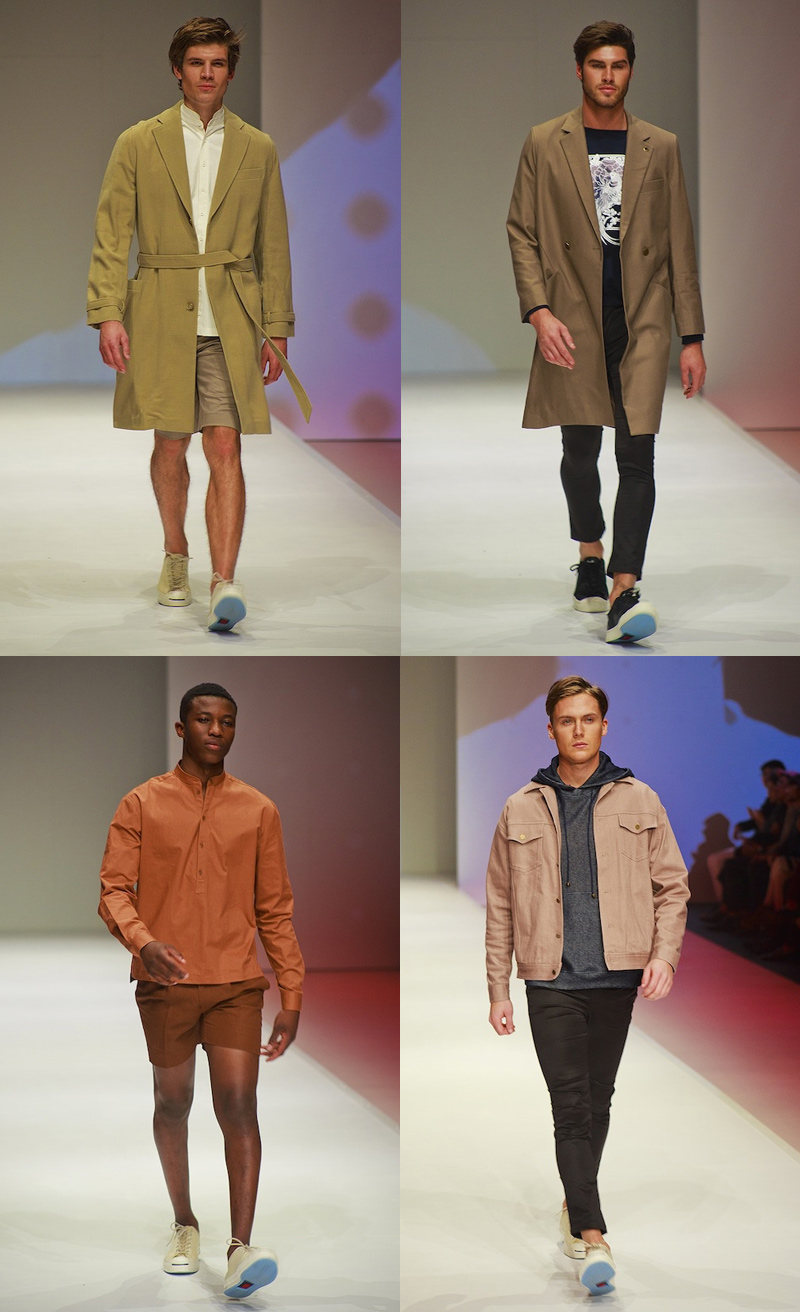 AUTONOMY: Spring . Summer 16/17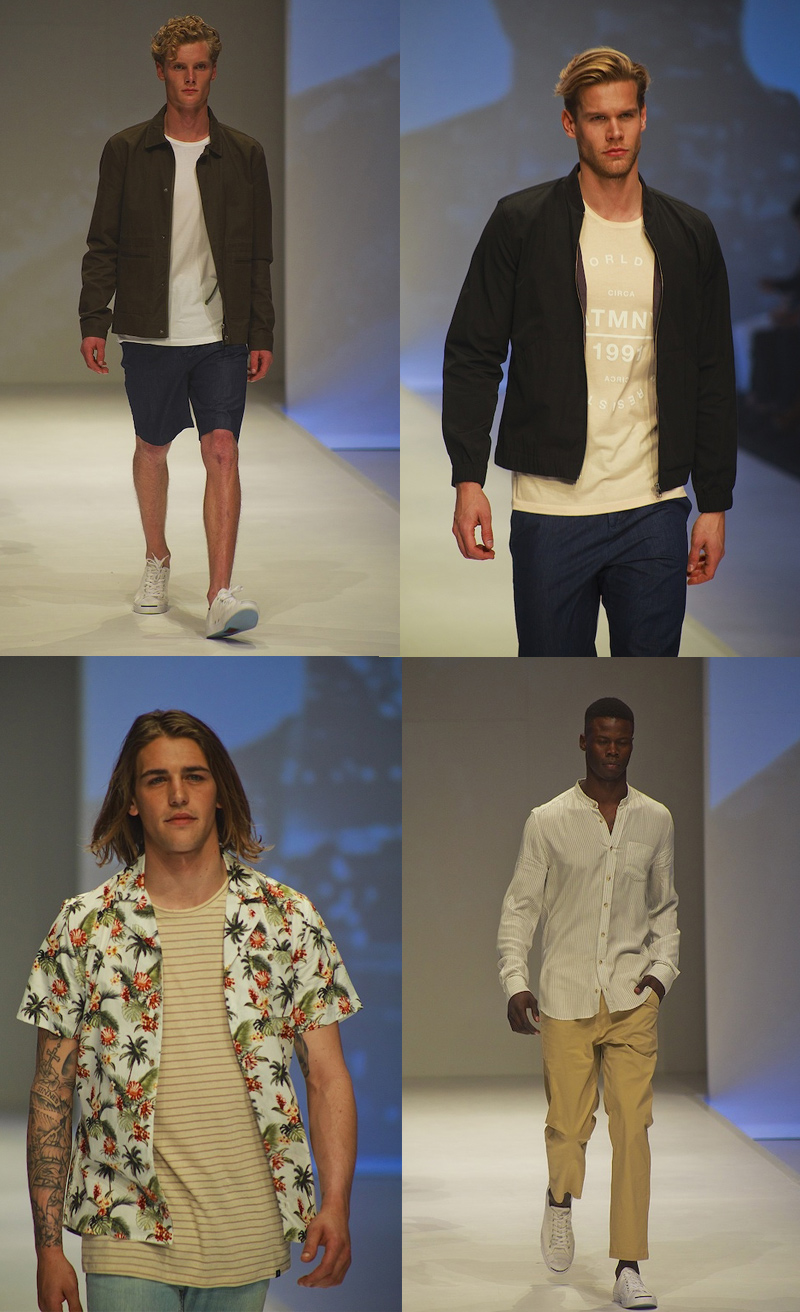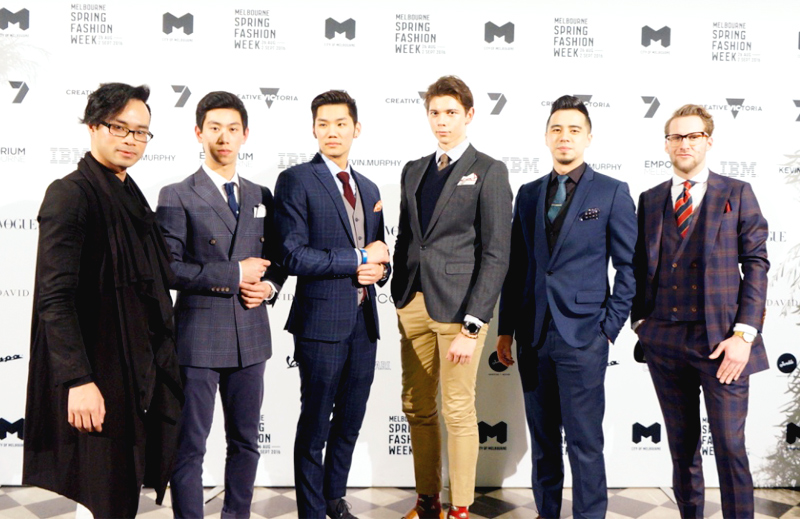 See you this time next year Melbourne!
Stay dapper gents.
Robbie – Dapper Lounge.