Some of the biggest names in fashion call Milan home and come time for fashion week, the global playing in the rag-trade set the tone of coming season with some true fashion candy. Here are highlights from a few notable designer in Part 1 of Milan Fashion Week Men's Autumn Winter 2-17 / 18.
DOLCE & GABBANA
There was much insta talk about this show. Channelling the production like a Victoria Secret show with a live performance by 20-year-old American singer-songwriter Austin Mahone (Instagram followers: 9.9 million) accompanying the models, Dolce & Gabbana stepped away from casting a runway only filled with traditional super models and mixed in millennial stars down the runway; the new influences of today. Promoting the show with the hastags, #DGMillennials and #dgprinces, these young influences had a heavy collective following of over 90 million; that's bound to get some insta cut-through.
With a collection dubbing as "The New Princes" and a collection inspired by the artwork of I NUOVI PRINCIPI, from music, to you-tube stars, instagram influencers and celeb off-springs, Lucky Blue Smith, Tinie Tempah, Cameron Dallas, Luka Sabbat, Pamela Anderson's son Dylan Lee, and Cindy Crawford's son, Presley Gerber all walked for D&G.
Going past the new gen star line up, the suiting on hard spoke spades of debonair flair. Textured and sequenced tuxedos, the classic tux, embroidered velvet slippers and regal detailing stood out against crown embellished knitwear, denim and bomber jackets. No colour was off limits in this collection.
Pics via L'uomo Vogue. Video via The Fashion Post
SALVATORE FERRAGAMO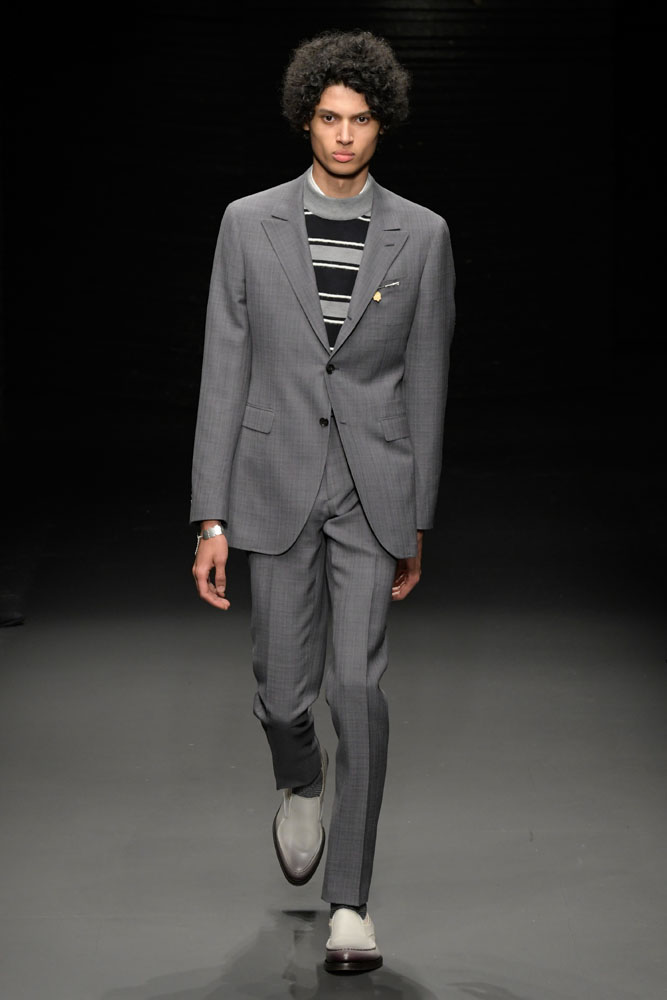 Contemporary class would best describe this winter 2017 collection. Guillaume Meilland, the new design director of Ferragamo, showed a sophisticated palette with multiple shades of grey, traditional earthy tones and patterns of fine and bold checks to contrast. Camel cable knitwear and starch white overcoats created clean looks, while leather bikers styled with tailored trousers rounded an otherwise sharp collection.
Pics via milanfashionweek.buzz. Video via Salvatore Ferragamo
GIORGIO ARMANI
When Armani does a shows you know you're in for walk down the classy lane. Mixed blue geo pattern outerwear, loose trousers and relaxed tailoring had gents looking sharp. Velvet a key fabrication in many pieces and a collection strong in shades of navy and textured greys, small pops of deep orange with various teal hues accompanied oversized collars with an item I've dubbed as the 'sleeved scarf'; a repeated item donned over jackets in varying fabrics.
A wintery runway filled with a major wearable factor.
Pics via zimbio.com. Video via Armani
ERMENEGILDO ZEGNA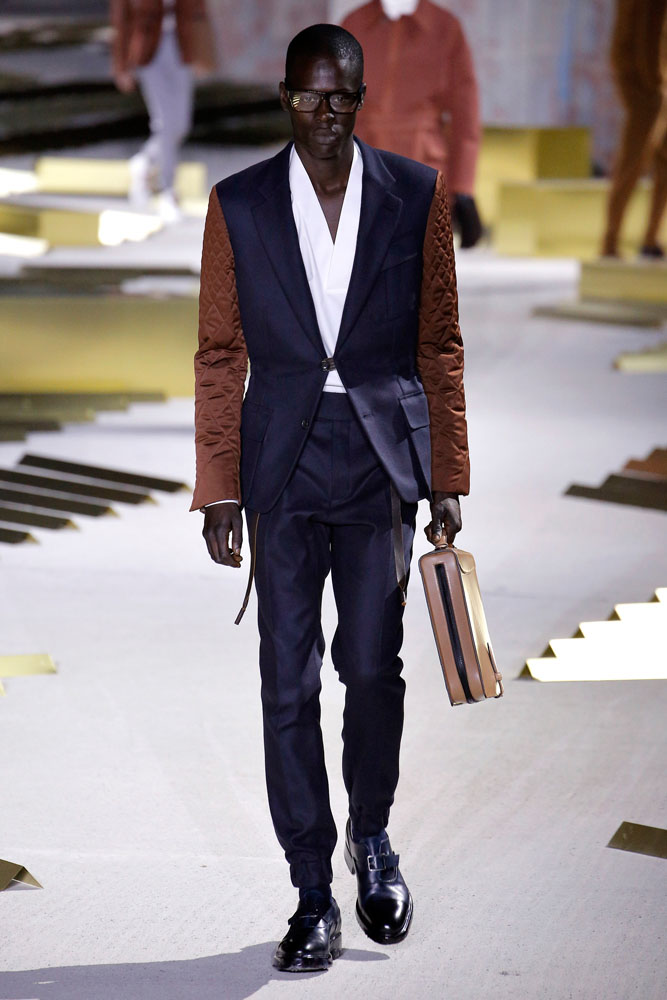 Ermenegildo Zegna set the elegant tone with a live pianist playing throughout the show, contrasted against a space in a converted industrial warehouse, the Pirelli Hangarbicocca.
As the debut collection from the new Artistic Director Alessandro Sartori, it was a "dialogue between the art of exquisite tailoring and the fast-paced needs of the contemporary urban and globe trotter. Out of progressive contrasts – technology clashes with tradition as the outdoors spirit stems from sartorial constructions and sportswear permanently alters the look of formality – new categories arise."
With shades of soft silvery grey outerwear and snow-white knitwear, quilted sleeve detailing exuded a dapper collection. Elastic cuff joggers gave a scene of relaxed luxury, while nude and camel coloured suiting teamed with high-tops and caps blended sports-luxe with sartorial sharpness. Bordeaux coloured trenches and rust hue jackets all helped to show to an immensely wearable collection filled with many cashmere, silk and textured pieces.
Pics by milanfashionweek.buzz. Video vis Zegna
Catch part two of Milan Fashion Week Men's here and stay dapper gents.
Robbie – Dapper Lounge