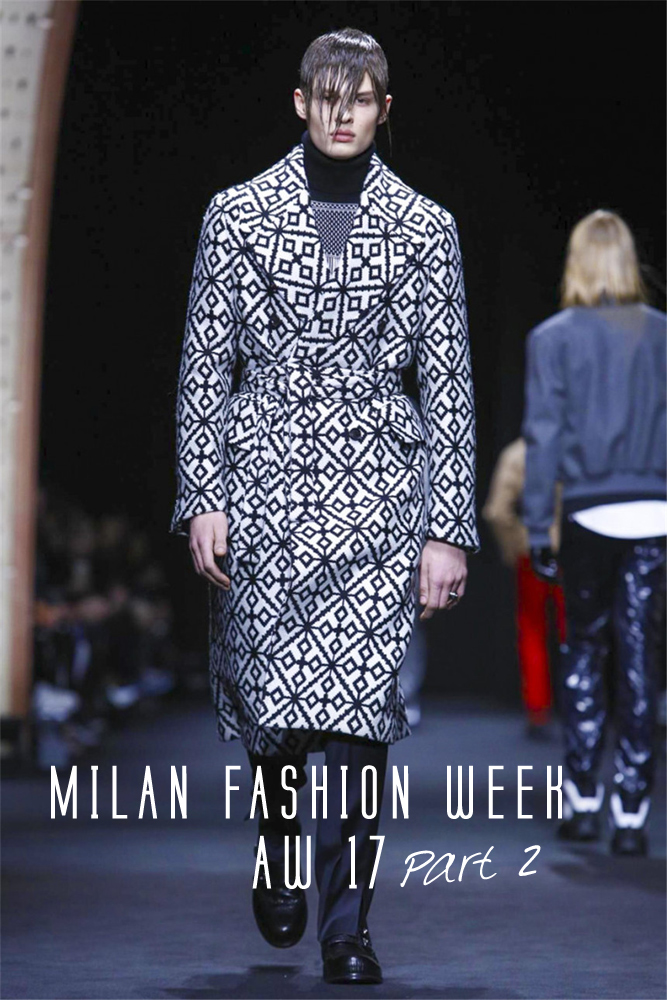 Continuing the highlights from MFWM, Prada, Versace and Neil Barrett also took to the runway, among a few, to showcase dapper threads for the coming winter. Here's a look at their collections.
PRADA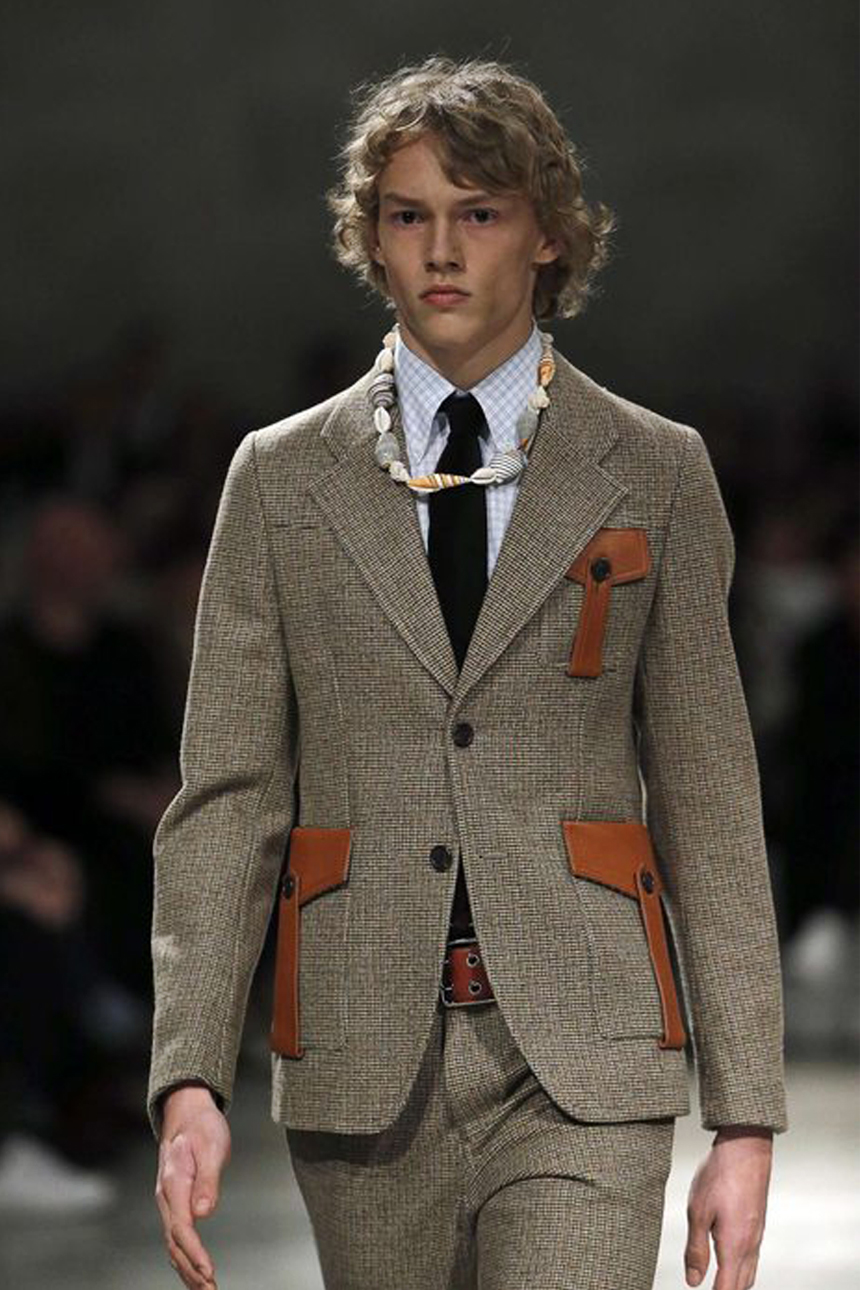 Strong in the use of corduroy fabric, loosely tailored trousers, bomber jackets, trenches and full suiting all used corduroy for a preppy old school statement.
Miuccia Prada gave a colour story strong in caramels, browns and orange, a mixed gender runway had micro checks and fur belts alongside leather pants teamed with leather jackets. Knitted jumpers were artistic with landscape painting prints, leather trimming and patchwork created detail to suiting which all building a collection that channeled a 70's vibe; mixed styling in texture and colour and relaxed silhouettes. Oh and if you still have your shell necklace from yester-year, dig it out. Prada's brought them back!
Pics via uk.fashionnetwork.com. Video via Prada
VERSACE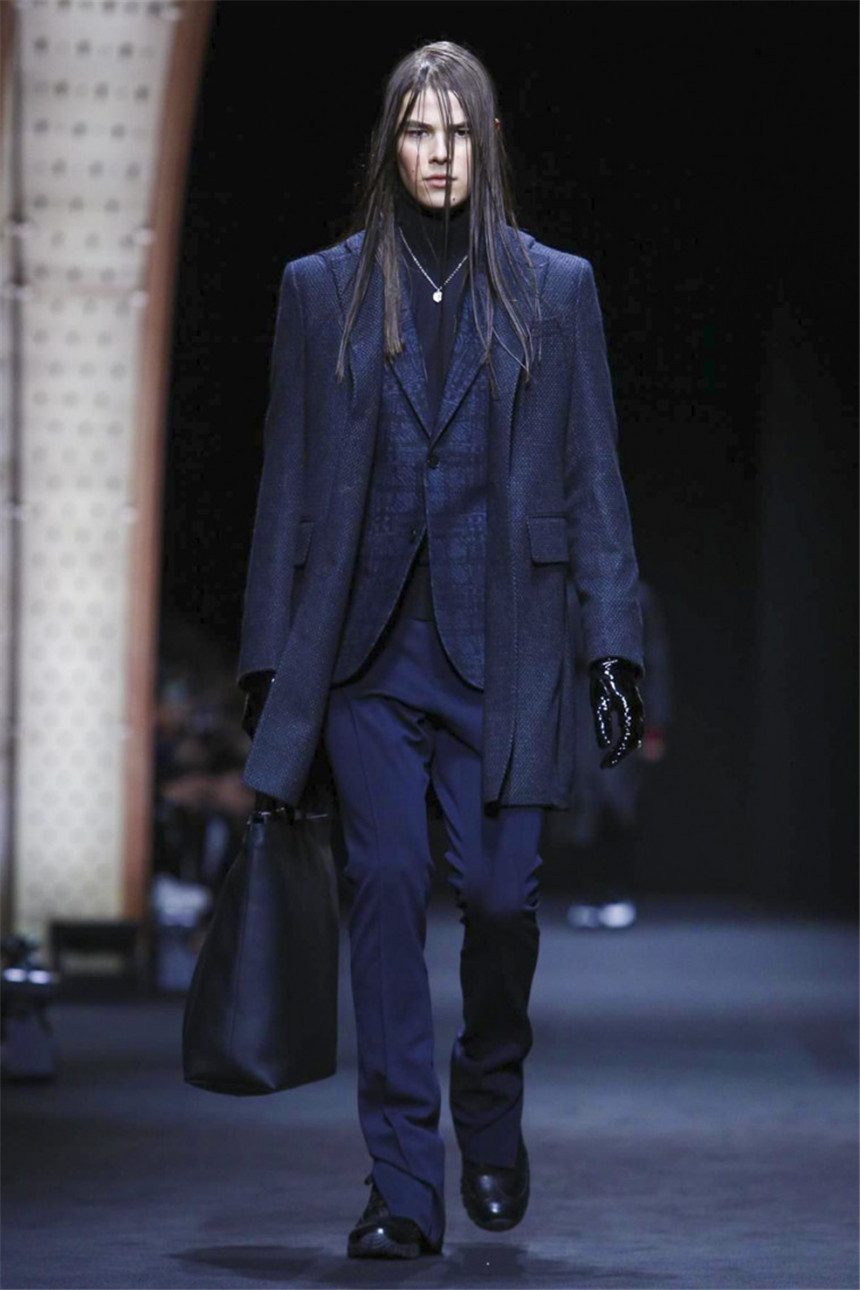 Trumpeting centre columns illuminated with the detail of the Versace logo and a cascading abstract pattern, added to the dramatics of a softly lit space.
While burgundy check suiting and plum coats walked their way down the runway, graphic and geometric outerwear in monochrome hues added a wintery statement.
Charcoals and blacks where heavily featured along with camel and brown. Bold solid red made its mark in a leather coat, pant and cap. Three buttoned suiting in grey Prince of Whales checks paired with a red roll neck added a styling statement.
Leather backpacks embellished with studded hardware and solid medusa logo, styled with suiting featuring pants with cut side-hems showing sporty sneaker footwear, presented a smart yet relaxed sartorial vibe. Coasts doing away with traditional buckled belt fastening, in favour of lengthier fabric belts, double wrapped and knotted to create a definitive silhouette seems to be a growing trend in many designer collections.
"This is a collection about the different tribes of Versace men, and the powerful positivity that can happen when men from different places, different cultures join together", said Donatella Versace. "The brotherhood of Versace – the strength of individuals, the power of unity. Pride in identity, the coming together of clans, and the sense of belonging from new archetypes for a male wardrobe."
Pics by nowfashion.com. Video via Versace.
NEIL BARRETT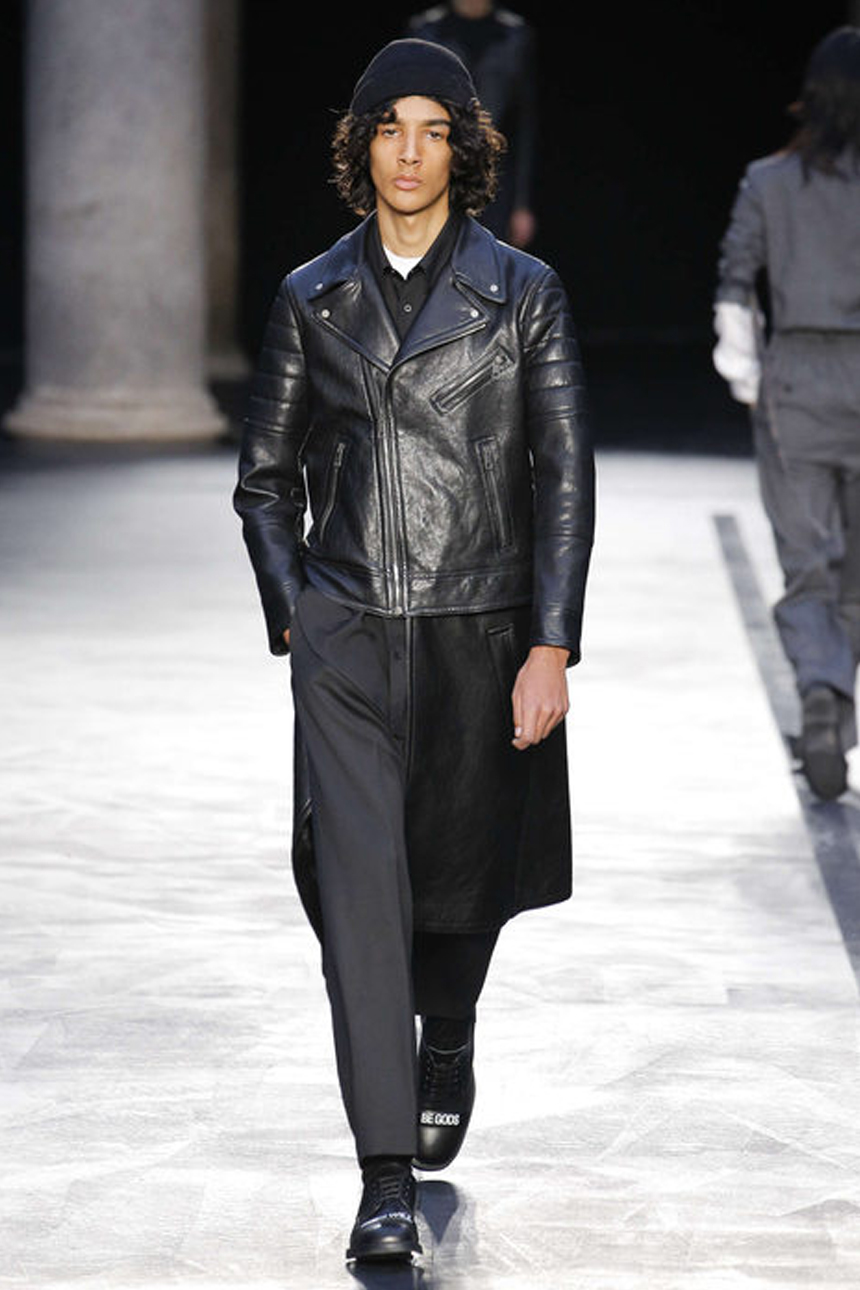 With ever collection from Neil Barrett, there is most definitely a signature written into the collection; be it a pop colour, print, pattern or graphic shape. If your sporting a Neil Barret jumper or tee for instance, it speaks for itself.
Stepping back in time and reflecting upon his 1980's college years at Central Saint Martins School of Art and Design, saw the inspiration behind his modern adaptation of past meets present.
Black and deep tones at the core of his collections with only a small burst of colour, the British designer delivered traditional suiting with elastic cuff trousers, toning down the formal edge to a modern suit. Bold pops of cannery yellow and lip-stick red against classic charcoals and black lifted the range.
Flash back to the old school sporty snap fastened pants, and Neil Barrett merged suiting trousers with snap detail. Fine wide stripped suiting in mid grey paired with a casual crew neck further pushing the look on formality with ease that seems to be spoken from a few brands.
Pics via uk.fashionnetwork.com. Video via Neil Barrett.
To take another look at part 1 head here . Stay dapper gents.
Robbie – Dapper Lounge