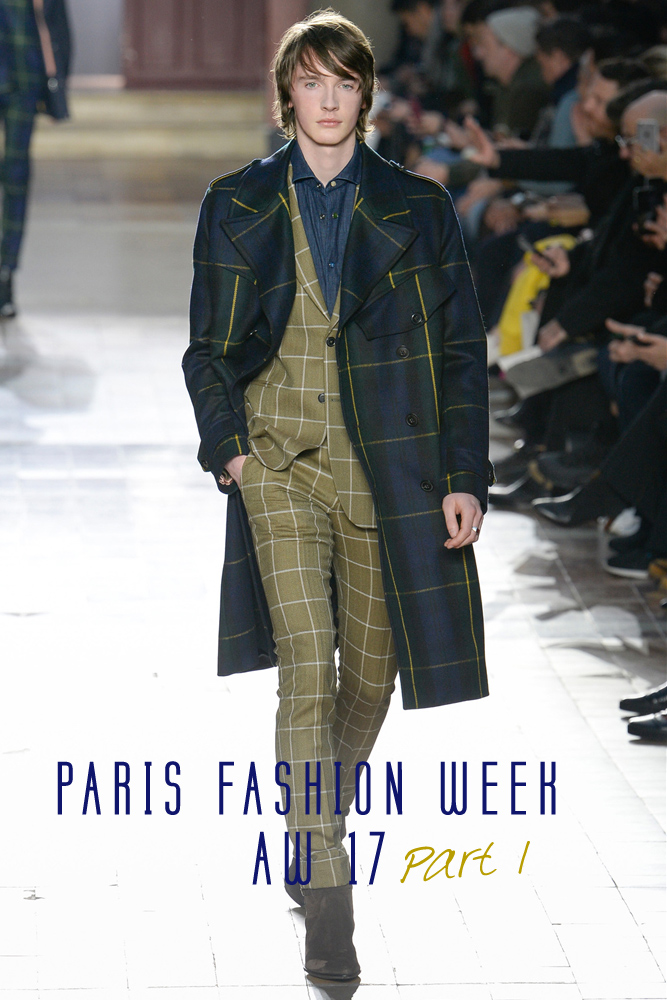 Checks and burst of colour keep rolling in with the collections of some of the big names in design from the men's Paris Fashion Week. From bubble gum pink, mint greens, rust, red and burnt orange all complementing traditional charcoals, greys and blacks. It's looking like a playfully bright winter all cut with relaxed silhouettes. I've filtered through to pick out and share highlights from a few leading brands in part one of PFWM.
PAUL SMITH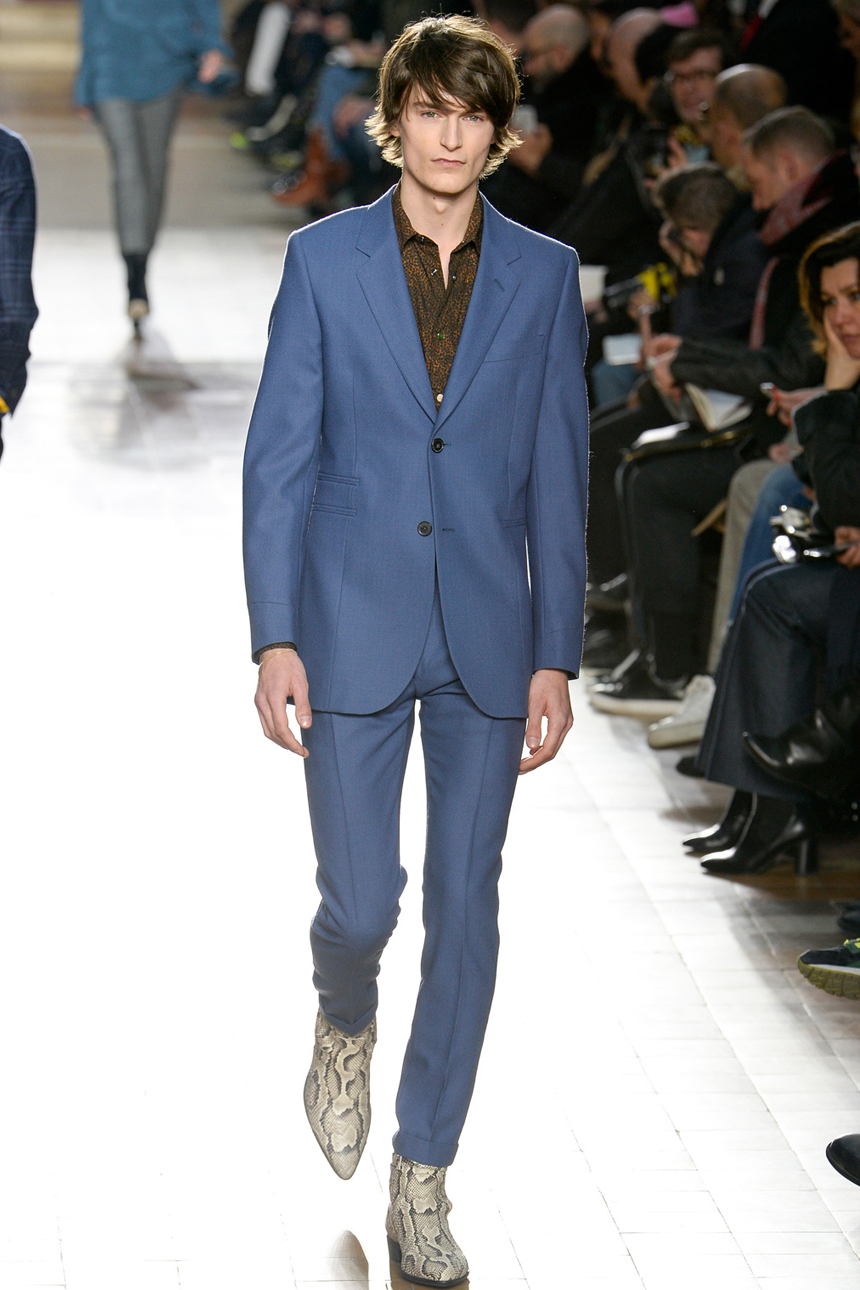 British tailoring and the heritage style that has made Paul Smith successful where at the core of the collection for Paris Fashion Wekk, as well as inspiration being drawn from Smith's first 1976 collection held in Paris.
The combined men's and women's show, a growing presentation trend umong brands, was held at the Êcole des Beaux-Artes. Sir Paul Smith showed checks of various proportions and scales; large windowpane and tartan suits in slim line cuts of moss green and white, navy and yellow add vibrancy to suiting
Pink and turquoise roll necks, velvet jackets and exaggerated biker jacket collars broadened the range. Layering mixed check separates to team a suiting ensemble with snake print boots created cool debonair flare.
Block colouring of cherry red against feather and paisley shirting added quirk, while a little versatility was extended to streetstyle sneakers and parkers to help constructed the English designers winter collection. Colour has always been in the DNA of Paul Smiths collections and this range was a fresh lift to a season otherwise best aligned with gloomy, rainy and overcast days.
Pics by Indigital. Video via Paul Smith
CERRUTI 1881
Creative Officer Jason Basmajian of Cerruti 1881, celebrated the brands heritage and mark of its 50th anniversary with a collection of dapper proportions. Inspired by the brands archives, oversized houndstooth checks in knitwear and coats with sheerling collars are set to keep you warm. Textured and pinstripe suiting added sartorial substance with deep purple, forest green and burgundy mixed in with navys, greys and black provided the colour direction for the collection.
Pics by Indigital. Video via FF Channel
VALENTINO
Valentino's Pierpaolo Piccioli, showed his first sole collection as the new sole Creative Director of the brand. "I wanted to redefine my man, it's the first show I've done on my own," Pierpaolo Piccioli said to Magazine for Fashion. "Men have changed so much in the past 20 years. A gentleman in the sense of a gentle man, sensitive and strong, I feel naked, exposed. This is a different approach, more unfiltered and emotional."
It was definitely an outerwear affair with Valentino featuring coats of bubble gum pink, bold red, white with contrast detailing and checks. Soft mint and ox blood hues along with orange, gave a playful colour scene to the traditional winter palette of charcoal and black tones.
Sweaters, caps and coats featured punk lettering and patchwork in a style best know for it's feature on the Sex Pistols record artwork 'God Save The Queen' by graphic designer Jamie Rei. Pierpaolo Piccioli seeked the collaboration with Rei and the usage of phrases that included, "Claim your heritage", "Beauty is a birthright, reclaim your heritage" and "It seemed to be the end, until the next beginning."
Argyle and windowpane checks were included, light grey's and camel added a neutral element with bags and clutches a strong accessory. With not a single formal leather oxford, double monk or brogue shoe in sight, it was the sneaker in all its glory shown in varying colours that covered the feet of every model. Baseball caps on each model continue the trend of relaxed luxe through styling and soft tailoring.
Pics via Vogue.com. Video via Valentino.
BERLUTI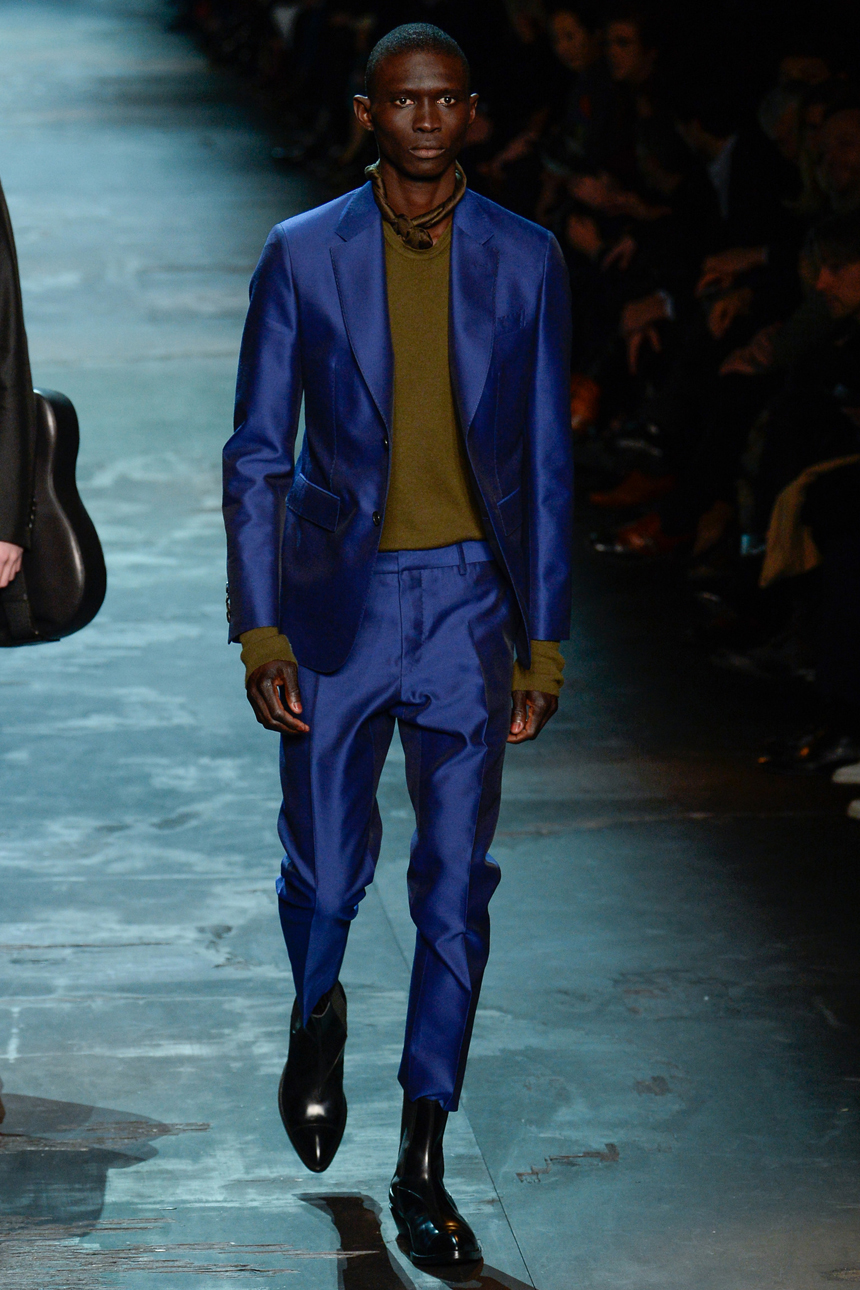 As most brands have sought the vision of new creative directors to project their brands in a new light, as too has Berluti, appointing Haider Ackermann's as their new visionary, with Alessandro Sartori now heading up Zegna.
Ackermann said the Berluti brand was to create "nice garments, a wardrobe, the essentials, what's relevant… fabrics and surfaces to be sweet to touch". Velvet a key fabric in this collection for suiting, with cobalt blue and blush pink the standout colours. Eight buttoned jackets and coats with contrasting collars, while a pastel purple bomber jacket added an informal edge.
Pics by Indigital. Video via Berlutti
Check back in for Part Two highlights tomorrow with designers Dior, Louis Vuitton and Givenchy.
Stay dapper gents.
Robbie – Dapper Lounge