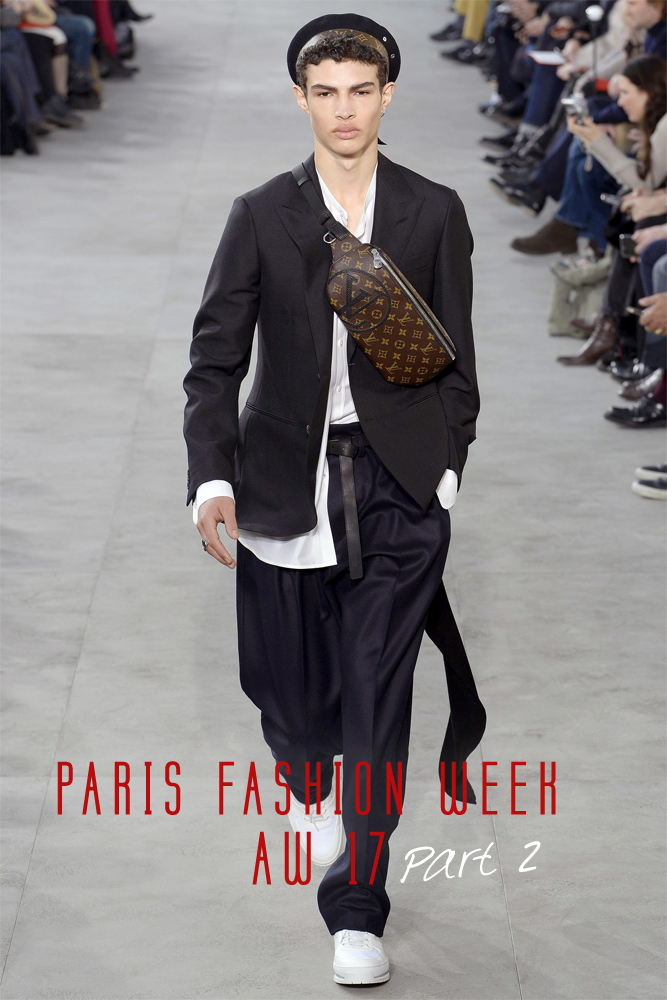 The second instalment of men's Paris Fashion Week sees inspiration come music and raves, totem poles and old school New York City. Here are highlights from Louis Vuitton, Givenchy and Dior.
LOUIS VUITTON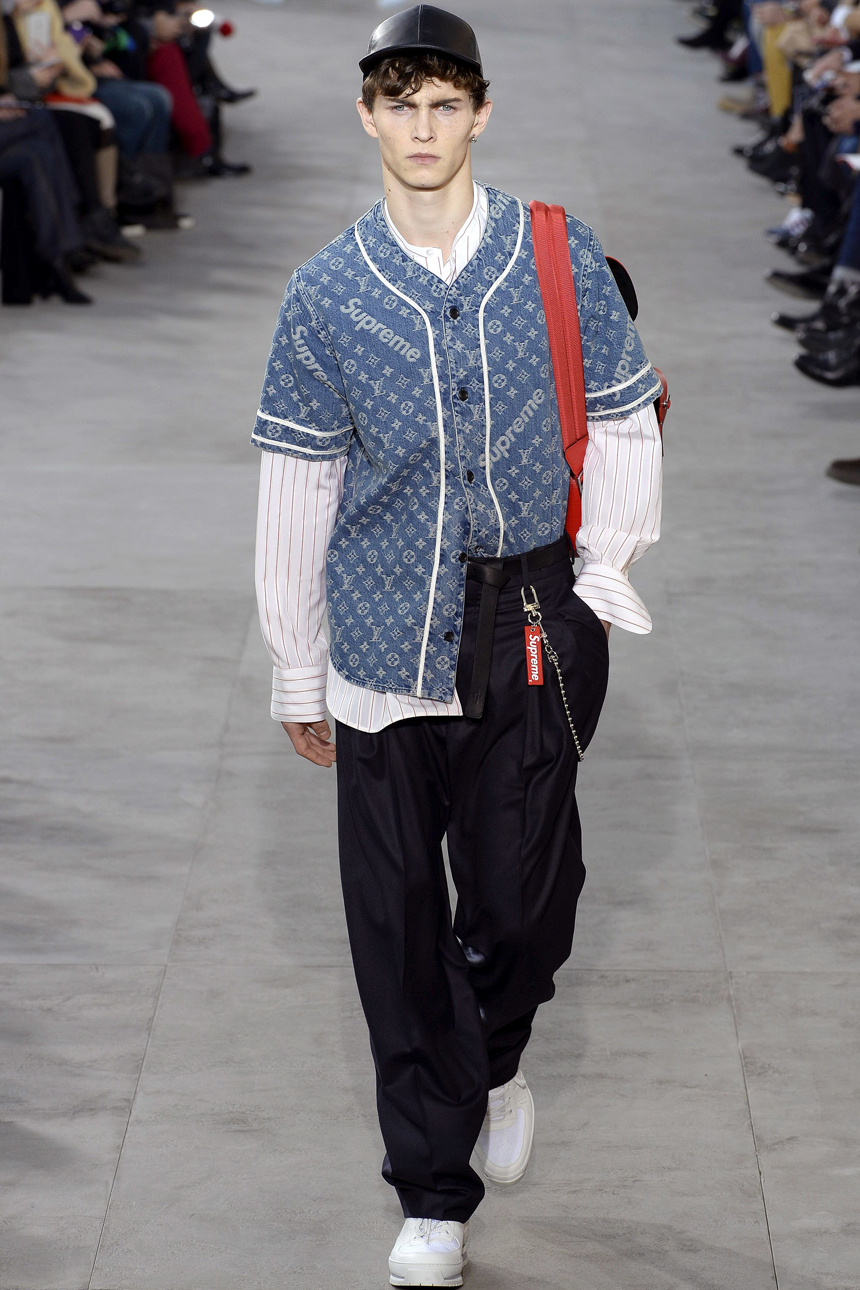 With a star studded audience including Kate Moss, Usher, David Beckham and a see of famous faces, Louis Vuitton unveiled a collection not just of wintery pieces but the highly anticipated and rumoured collaboration with Supreme, a cult American streetwear brand.
The luxury French fashion house merged cool and class with inspiration drawn from the big apple. "When I was designing the collection and focusing on New York in the 1970s and 1980s, I was looking at the uptown / downtown scene, looking at Studio 54, Basquiat, Andy Warhol and the mixing of different styles."
Navy and ivory long-line knitwear, slouchy overcoats, leathers in choc and caramel mixed in with cinnamon suiting cut to a baggy and casually tailored shape all evoked wearable ease.
Branding was strong with a Japanese denim baseball shirt and jackets sporting the iconic LV monogram together with the Supreme logo. Like many brands of previous seasons, camo print continues into the coming winter, with base ball caps again making a style statement in LV's show. Sneakers you asked? Yep, on every model.
Kim Jones, LV's Creative Director, looks to the street style mix of NYC and the "artists and musicians, friends and heroes" like Jean-Michel Basquiat and Julian Schnabel, Keith Haring, Robert Mapplethorpe and Andy Warhol. "It's the time when anyone from anywhere went out and mixed together in clubs." It was looking at the uptown-downtown social mix, which was so important then… because that's the thing that seems to be crumbling now", Jones said to Vogue.
If you're loving the runway sound track, head here to play and download the beats by U.S DJ Honey Dijon.
Pics via Vogue. Video by Louis Vuitton via Kendam
GIVENCHY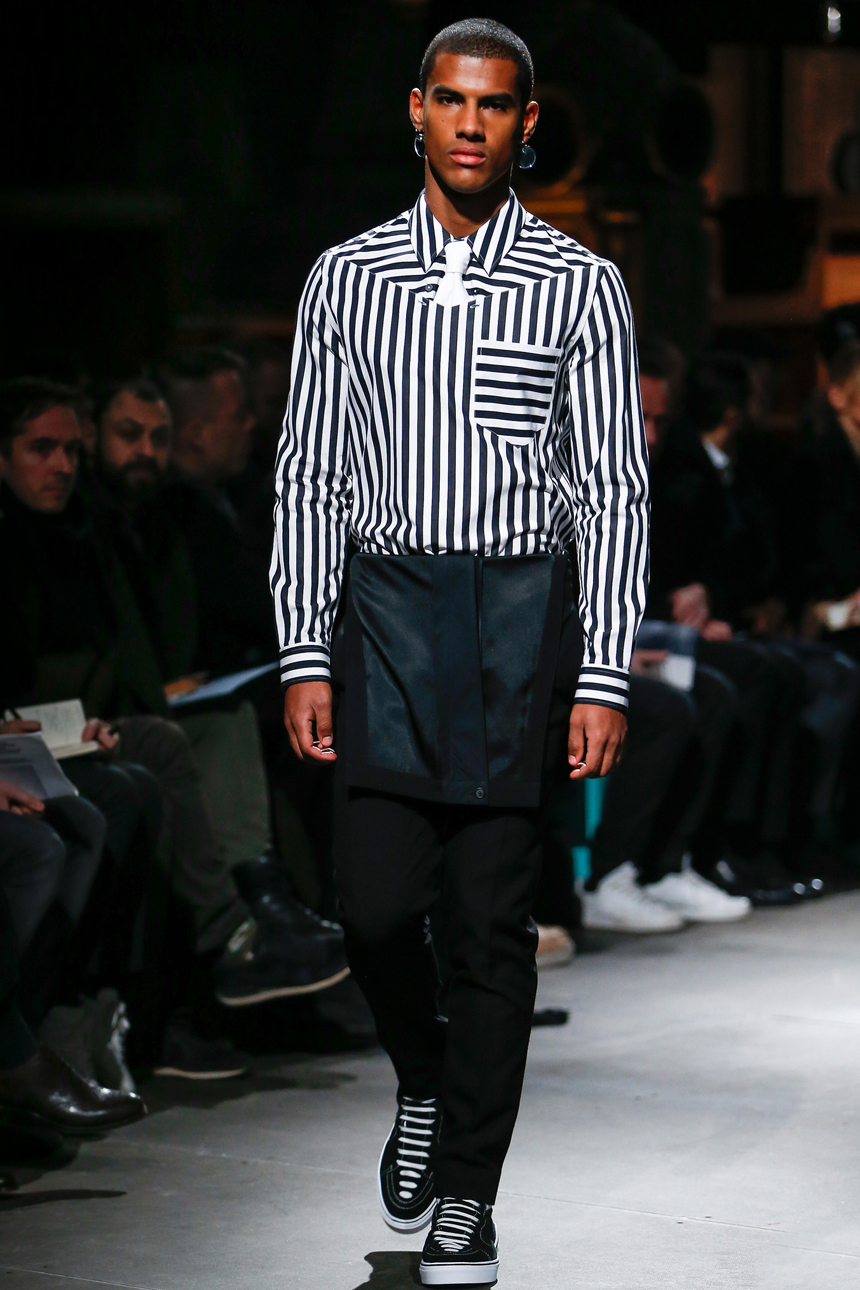 Riccardo Tisci's always know how to create the Givenchy hand print to each collection. A combined men's and women's, show Tisci's inspiration came from "stars, stripes, totem poles." Vertical and chevron stripes featured on knitwear and shirting as red created the key colour to the collection.
Playful and exaggerated graphics in the form of abstract totem pole imagery adorned jumpers. Contemporary suiting in tapered cut trousers and oversized jewel embellished jacket buttons paired with sneakers gave a youthful vibe, with cobalt being injected into check shirting and outerwear.
Pic by Indigital. Video via Givenchy
DIOR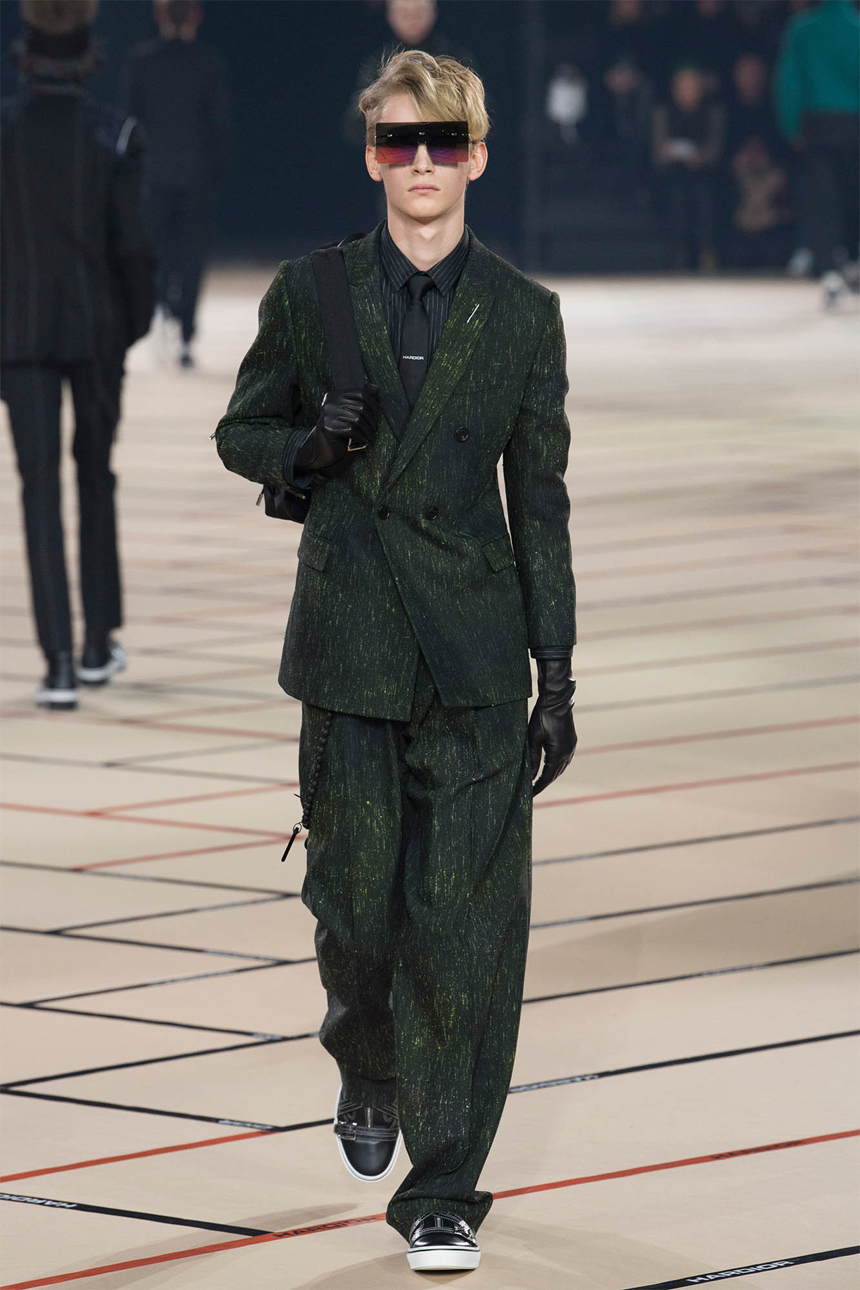 Kris Van Assche, the Creative Director of Dior Homme, worked off a play on words "Hardior" for the winter 17/18 collection. A common thread among many brands at the moment is to draw inspiration for the rich history these fashion houses have delivered from may years while adapting and translating the archives for today's modern man.
"I wanted a collection that was really truly Dior. Dior through and through. For me it was really uprising to see how much the Brand's DNA really pervaded the space and I juxtaposed it with a structure that was much more raw, much younger, as if we were at a rave", said Kris Van Assche.
Delivery classic Dior looks at the top and mixing in streetstyle at the bottom, music, raves, gabbers, candy boys were also a major draw of inspiration. Airbrushed green and blue overcoats of lambskin, red velvet and orange pony hair, helped contrast against multi-colour drop and fleck graphic suiting.
"I begin my show with colours that I often use, black, white, red, as a reference to new wave, new romantics, then new wave evolved into rave, so then we find more neo colours on the reverse of sheepskins, on knits, jerseys, even wool for bright orange or green coats."
Pics and video via Dior Homme.
That's a wrap of Paris Fashion Week. To take another look at Part 1 head here.
Till next time stay dapper.
Robbie – Dapper Lounge.