PHOTOGRAPHER // RENNAN DIZON
ART DIRECTION & STYLING // DAPPER LOUNGE
EDITING & DESIGN // DAPPER LOUNGE
CLOTHING //
BLAZER & SHIRT : SABA
TROUSERS : BRENT WILSON
ACCESSORIES //
SHOES : YSL, SAINT LAURENT
TIE : ARMANI
POCKET SQUARE : YSL, SAINT LAURENT
WATCH : GUCCI
SUNGLASSES: TOMFORD
TOTE BAG : GUCCI
LOCATION // PADDINGTON, SYDNEY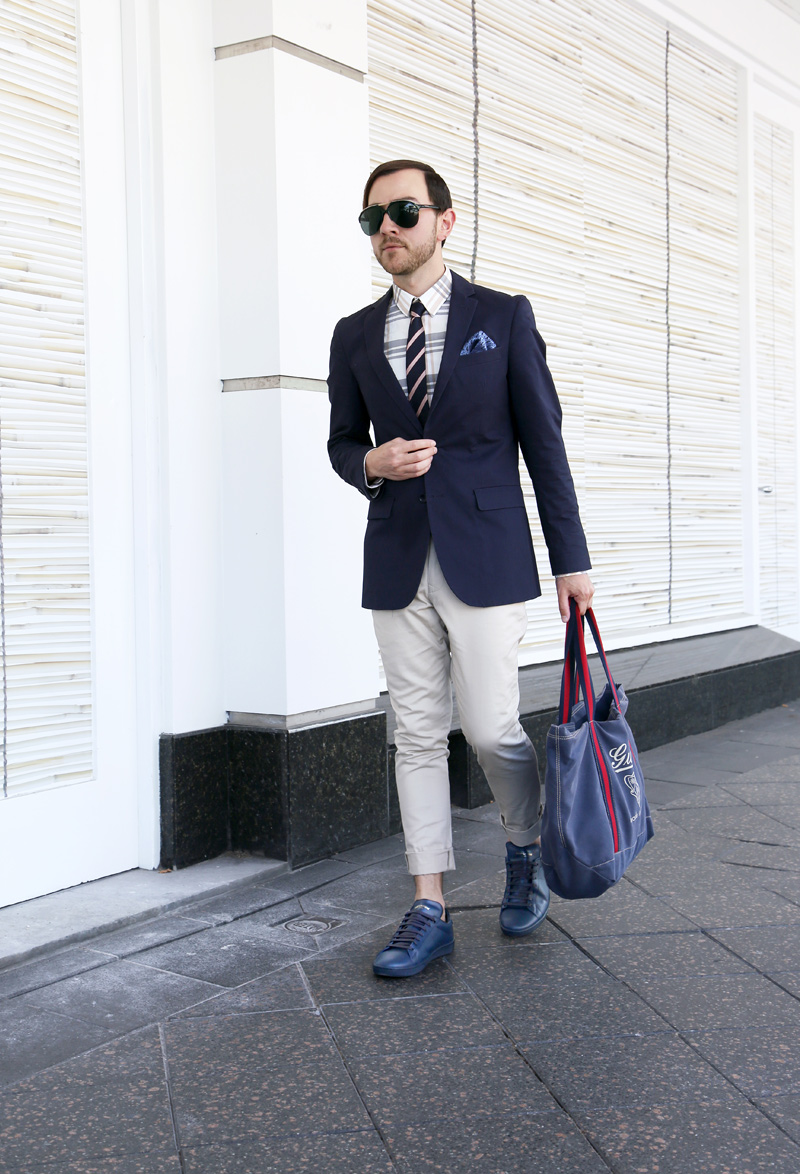 Building your outfit-of-the-day from the base up and styling your look around your fave shoes can provide a new direction on what you would have initially chosen. And for that relaxed luxe look, a sartorial pair of sneakers is your go to.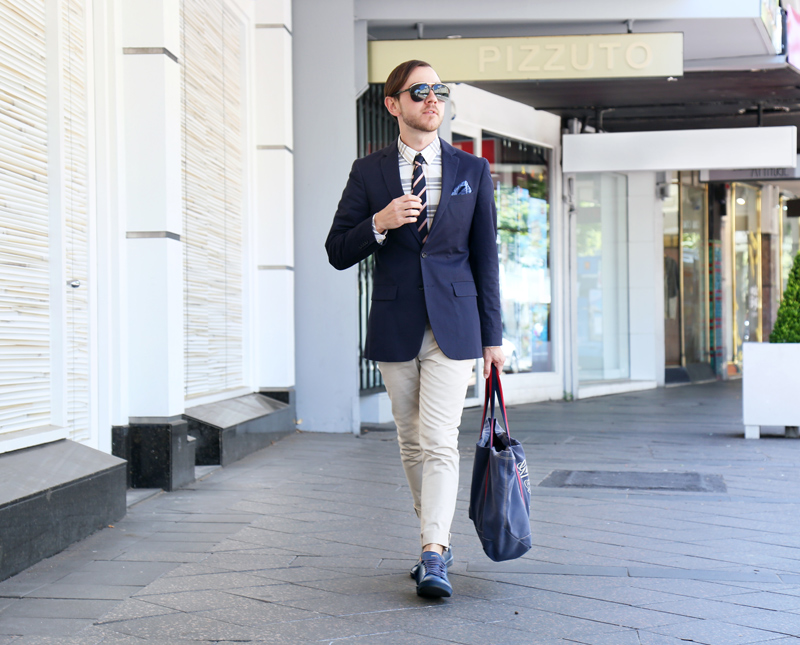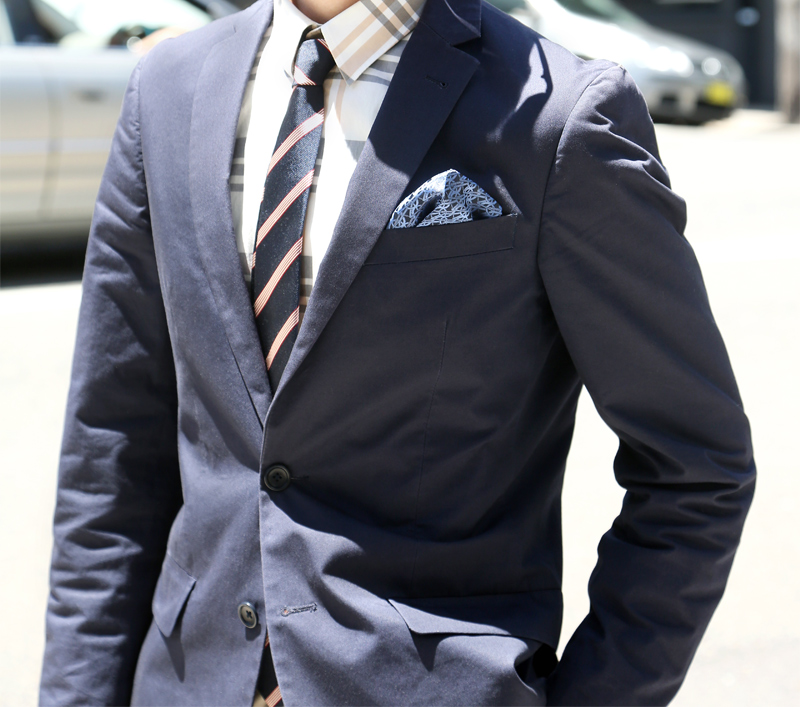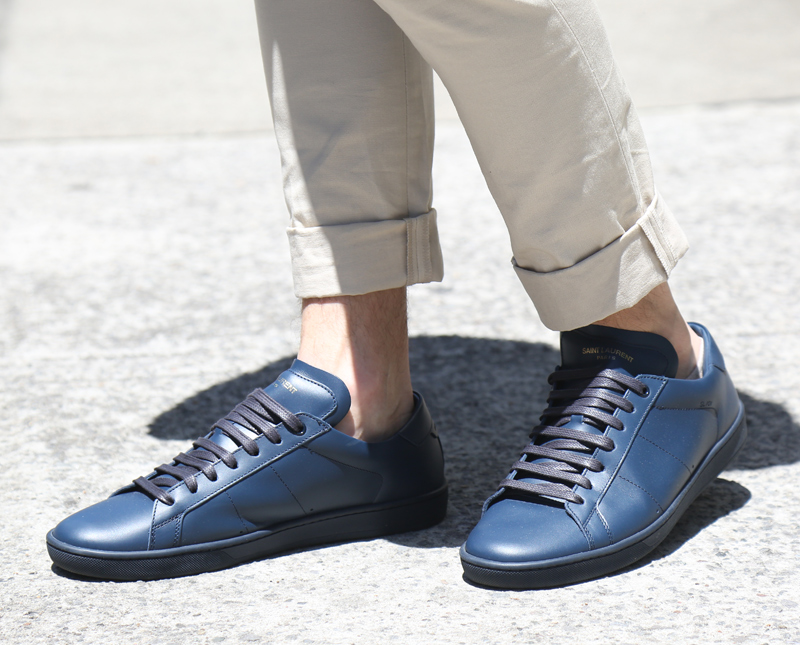 Working this look around my indigo sneaks by Saint Laurent, I've keeping the colour palate of this ensemble tight to blues and neutrals. Choosing a stone trousers, really allows the depth of these blue sneakers to be the hero of the look and spell out smart casual yet dapper styling.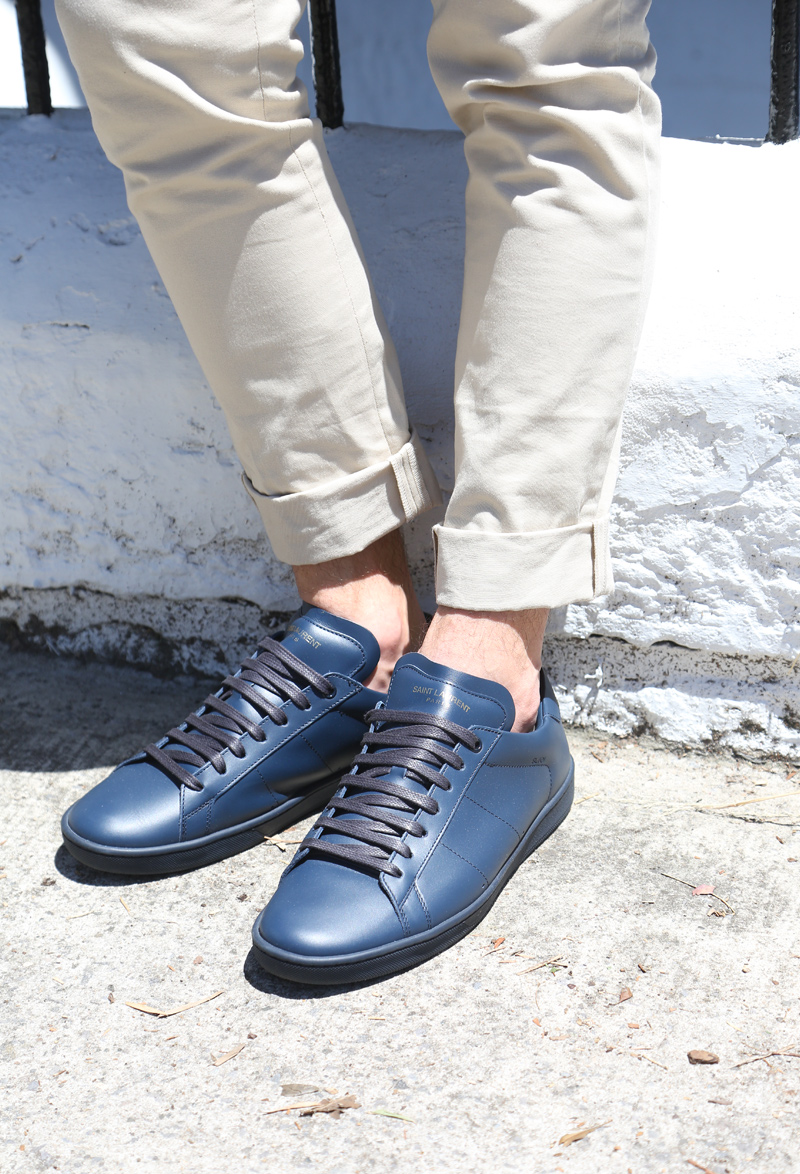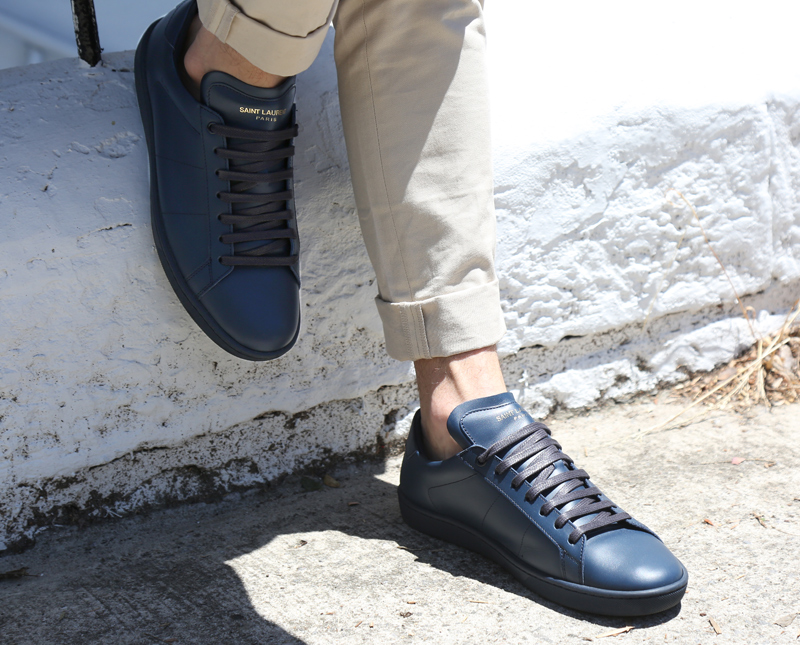 Popping on pair of sartorial sneakers can complete transform and add a street chic edge to any look. While I'm definitely a fan of loafers and lace-ups, owning a couple pairs of sneakers, helps to introduce a casual edge to cotton summer suiting or mixed separates (all depending on the occasion of course). I've pulled together a little sneaker guide with solid colours from Red, Blue, White and Black, to help inspire your next sartorial sneaker look.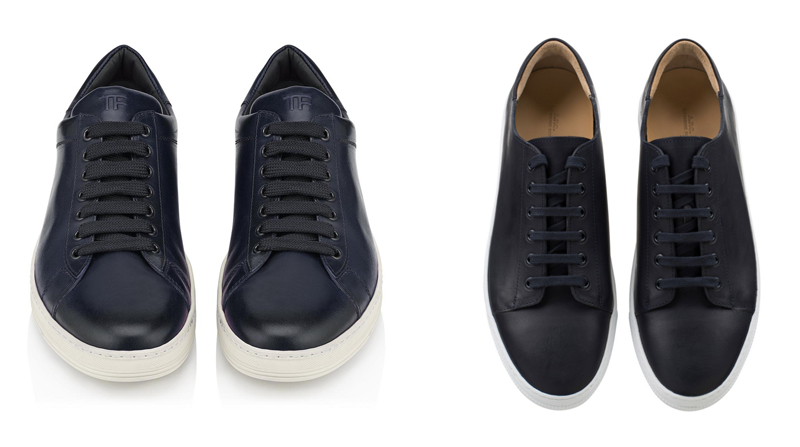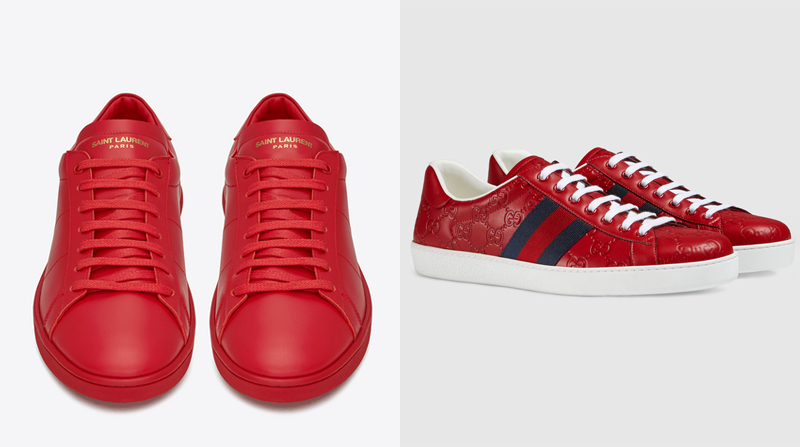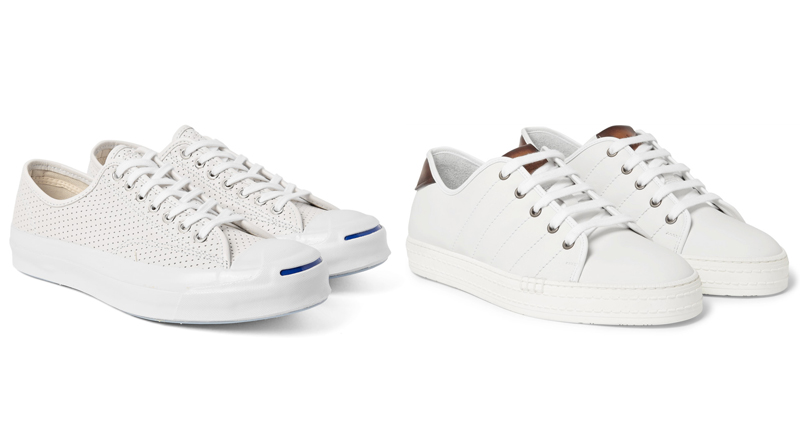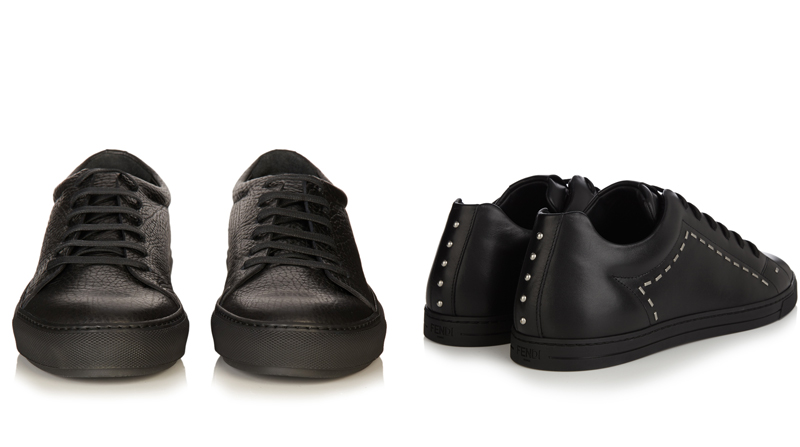 I also cam across some great 'Sneaker Terms' from the dapper gents at Mr Porter that all gents should have up there sleeves when shopping for that perfect pair.
Collar
The top edge of the quarter, where you insert your foot (called the "topline" on a dress shoe). It is often padded for extra comfort.
Foxing
A strip of material that runs all around the outside of sneakers, covering the line where the upper meets the sole (essentially, the sneakers' version of the welt). This slows the degradation of the glue that holds the upper and sole together, and can range from a thin strip of rubber (for example on these Converse Jack Purcells) to a wide, graphic piece of leather (as seen on Nike's Air Max 1).
Heel counter
A piece of plastic that lines and reinforces the inside heel of sneakers, keeping them sturdy and supportive of your foot.
Heel tab
This can refer to a variety of things: either a decorative piece of leather that's used as an accent on the back of the collar (such as on these adidas Originals classic Stan Smiths), or a small loop of fabric, also positioned at the back of the collar, to help you pull the shoe on (see Nike's Roshe Run sneakers).
Inner sole
Usually refers to the sneakers' entire interior lining. In more performance-based designs, this is often carefully cushioned and padded to provide extra support. Sometimes, as in these Nike Archive 83.M sneakers, this comes in a different shade from the upper to add a flash of colour around the ankle.
Lace guard
An additional piece of leather sewn or glued on top of the lace area, to reinforce the lace holes and shoe opening.
Midsole
A wedge of spongy material in between the outsole (see below) and the upper. This helps to provide extra support (and, sometimes, that "bounce" factor that you get from athletic shoes).
Outsole
The hard outer layer on the bottom of sneakers' soles. This is the part of the sole that touches the floor when you walk.
Padding
Cushioned segments that improve comfort and are typically placed around the collar of sneakers.
Sock liner
The first layer of foam or padding that the bottom of your foot rests on in a running shoe.
Stay dapper gents.
Robbie – Dapper Lounge